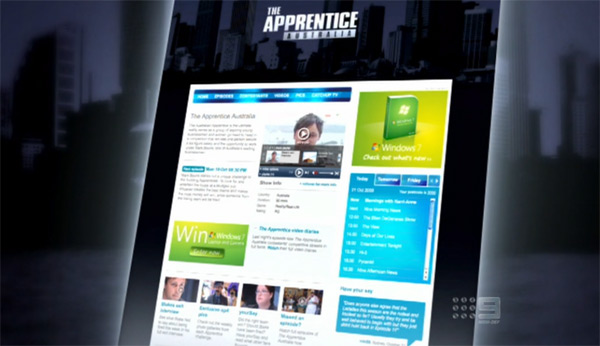 Furthering the barrage of Windows 7 promotions on Australia's television network Nine, the operating system made a special appearance on the Australian wanna-be-version of "The Apprentice" TV show this evening as part of a competition for the contestants to design a television advertisements.
If you've missed the thrilling hour of egos and tension, then be glad Microsoft didn't go with either of the campaigns pitched which to be fair was conceptualized, directed and edited in just a single day.
On a related note, Nine in collaboration with Microsoft is hosting a competition on the show's website to give away a Windows 7 Sony Vaio X-series laptop and Sony 10mp digital camera.
Unfortunately to enter you will have to put on a thinking cap and come up with your own idea for a Windows 7 ad. It's stated in the terms and conditions entries will be judged on creativity, humor and originality, so don't bother with "Windows 7 was my idea". Entries close Sunday, 29 November.