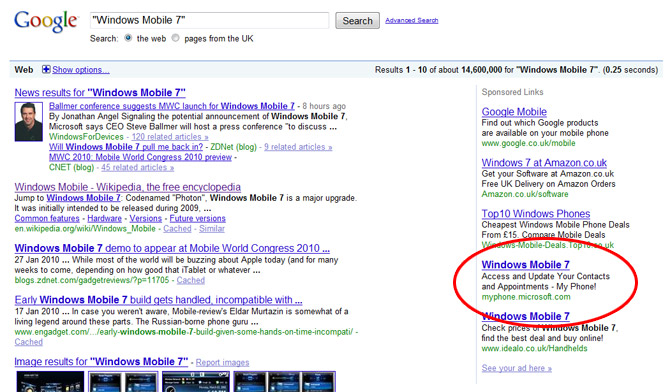 As Mobile World Congress 2010 inches ever closer, an interesting bit of fact about Windows Mobile 7 has leaked early courtesy of an unusual suspect, Google AdWords.
Thanks to a heads-up from Rafael Rivera, a keyword ad for "Windows Mobile 7" placed by Microsoft on Google.com pointing to its My Phone service clearly indicates a new feature which will be supported in WM7, the syncing and remote management of phone contacts and calendar appointments.
This would be a great step up from the current limited ability to only backup photos, contacts and text messages as well as the ability to locate and wipe lost phones. Fittingly, MobileTechWorld also recently noticed a job ad pointing to a My Phone 2.0 release which hints at even more integration and services.
Update: It appears this feature may already be available on My Phone today, false alarm sorry. Unfortunatel since I use Exchange on my Windows phone, My Phone is severely crippled so I wasn't aware of this.