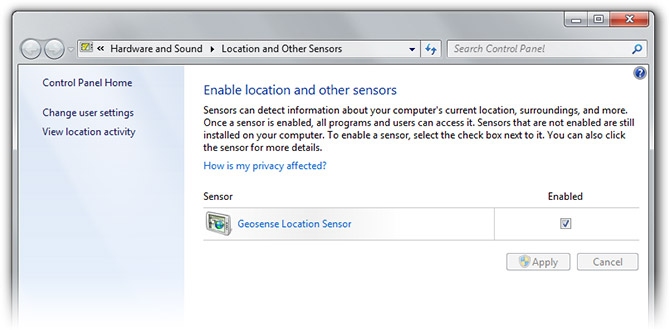 Unless you've been living under a rock without any GPS reception, you might have heard of location-based applications. From the fun to the useful, letting software know where you are in the world is a powerful way to make information more relevant, but why should smartphones have all the fun?
Half a year ago, Firefox 3.5 introduced support for geolocation, a feature allowed the browser to pinpoint the location of the computer using WiFi triangulation. After personally witnessing how well it worked (it located my home, in fact, my room in the house where I use the computer), I started bugging my partner in crime, Rafael Rivera, to port this feature to the platform-level, where it belongs.
As a matter of fact, Windows 7, like most other current generation OSes, has a built-in location platform and API that allow third-party developers to build native application that are location-aware. However unlike other OSes, specifically OS X, Microsoft made the fatal flaw of not integrating a default geolocation provider, thus developers could not take advantage of this until Windows 7 PCs started shipping with GPS sensors, which hasn't happened yet.

Instead of waiting for OEMs to pick up the ball, Rafael and I are offering an alternative.
Over the past several weeks, we (Rafael did most of the work, I shouted at him) built Geosense for Windows, a Windows 7 sensor driver that connects the location platform with geolocation service providers who include but is not limited to Google Location Services. These geolocation providers work by matching and triangulating known cell towers and wireless access points in its database to estimate a latitude and longitude, with remarkable accuracy and scope.
Today we are releasing Geosense for Windows for free. We believe by offering this tool for free will help enable the most possible Windows 7 PCs to be location-aware, and in turn add incentive for third-party developers to take advantage of the Windows 7 location APIs and make their applications stand out.
That's enough talk from me, now go get the bits.