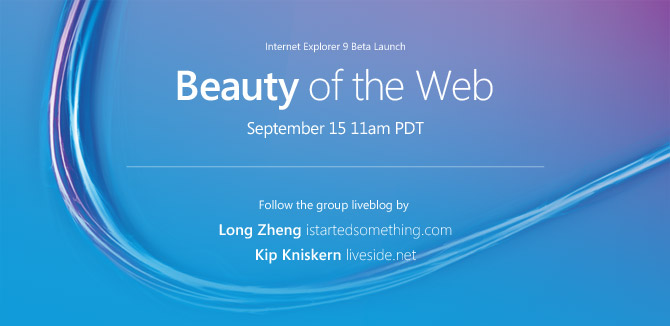 They say beauty is in the eye of the beholder which is one reason you'll want to pay attention to Microsoft's Internet Explorer 9 "Beauty of the Web" event next week.
Join Kip Kniskern from LiveSide and I in another always-entertaining group liveblog of the keynote where Microsoft's expected to launch a beta version of the browser in all its glory with an emphasis on design if all the marketing materials are to be believed. The venue, the San Francisco Design Center, probably has some relevance too.
The keynote is expected to start Wednesday, September 15 11am US Pacific Daylight Time (check your local times here). Alternatively, download the iCal I prepared earlier for convenient calendaring.
According to Microsoft "beautiful is feeling the love", so bring on the love I say.