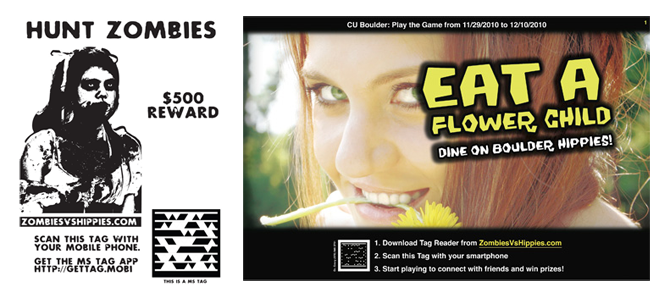 You may want to add Microsoft Tag to your arsenal against the ever-impending zombie apocalypse as a mobile-based alternative reality game played out a couple of months ago at the University of Colorado at Boulder has demonstrated.
Posters for "Zombies vs Hippies" around the campus teased people to scan a tag with their mobile phone which led them to a site that provided some back-story to the game. Players had objectives that involved entering codes, scanning tags and group missions that scored points both for the team and themselves. The person with the most points also scores a $500 gift card.
Although the student team from Boulder Digital Works, a creative technology program at the university, claims this was a physical and virtual game blended with the campus culture to meet and socialize with students on-campus, it's result (zombies won) speaks volumes to how under-prepared we are.