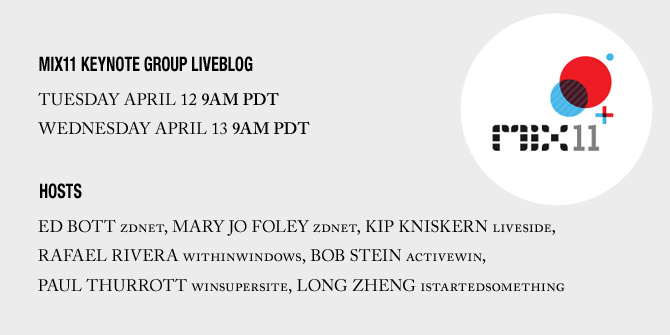 To kick off another exciting year of annual Microsoft conferences, MIX11 is happening next week in Las Vegas and I'll be there along with a cast of your favorite Microsoft bloggers to group liveblog the two keynotes during the event.
Join Ed Bott, Mary Jo Foley, Kip Kniskern, Rafael Rivera, Bob Stein, Paul Thurrott and I in what is always a fun and interesting conversation about the announcements and sometimes pre-show entertainment (contrary to rumors, I will not be making a ball juggling cameo this year).
It's expected this year's keynotes will be rather exciting with announcements surrounding HTML5/Internet Explorer, Windows Phone 7, Kinect, Silverlight and maybe even a dew drop of Windows 8.
Be sure to wake up early/stay up late on both Tuesday the 12th and Wednesday the 13th at 9am Pacific Daylight Time (check your local times here) to catch it live. Alternatively, download the ICAL here.
Disclaimer: I am attending MIX11 as a guest of Microsoft Australia.