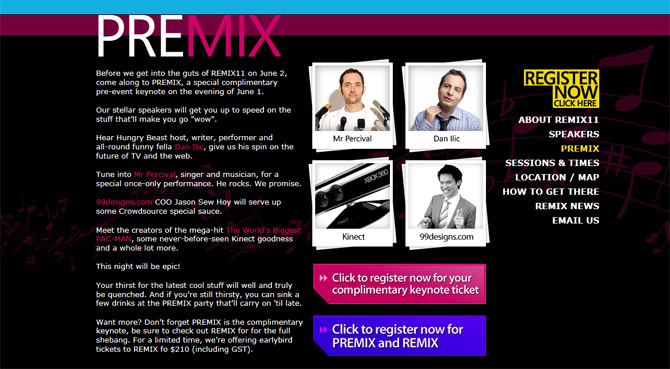 The nice folks at Microsoft Australia is showing off their extra generous side this year by making the keynote portion of the REMIX Australia 2011 conference entirely free. Oh and did I mention the party and drinks afterwards are free too? Yes, they're that nice.
Dubbed "PREMIX", on evening before REMIX (Wednesday June 1) at the Seymour Centre in Sydney, the complimentary keynote from 7pm features TV personality Dan Ilic from ABC's Hungry Beast talking about the future of TV and the web, Jason Sew Hoy of the famed-Australian-startup 99designs.com, vocal musician Mr Percival and some local Kinect innovation.
If this sounds remotely interesting to you for a Wednesday night, register for PREMIX free here. Of course, if you want to learn about Windows Phone 7 and HTML5, stick around for REMIX the day after.
Update: I've also got a complimentary ticket to REMIX to give away. If you're interested, add a comment below stating you're interested (remember you have to be in Sydney, Australia). Winner will be picked on Saturday the 14th.