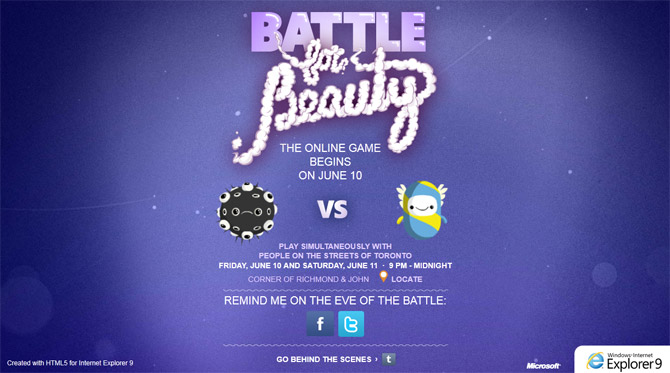 Continuing the "Beauty of the Web" theme for Internet Explorer 9, an upcoming event next weekend which will be held simultaneously online and in-person at downtown Toronto, Canada will be promoting a more beautiful web through a live, browser-based multiplayer game called "The Battle for Beauty".
Although HTML5-based browser game are not new, this one will feature a game mechanic I haven't heard of for an online game before. The preview reads,
It's a one-of-a-kind, interactive event where live participants will team up with online players using Windows Internet Explorer 9 and battle together against other online opponents. All attendees will have a chance to play the game, especially designed by Microsoft to showcase the latest version of Internet Explorer.
It claims real players in the streets of Toronto will use softballs on an interactive screen to play with online counterparts, bridging interactive play with physical play. It will be an interesting experiment to say the least.
The event is scheduled for June 10 and 11. You can find more details about the event on the game's website. Of course if you're in the Toronto area be sure to check it out live and presumably get your hands on some Internet Explorer softballs (featured below). If not, pay a visit in your browser.