At the AllThingsD D9 conference today, Microsoft's Steven Sinofsky and Julie-Larson Green (both of Office fame) offered a first look at some of the touch experiences in Windows 8 along with a sample of the new Metro-inspired user interface otherwise known as "MoSH" (Modern Shell).
There was a lot to digest in the 4 minute presentation so I wanted to offer a closer look using the companion video with Jensen Harris of the Windows User Experience team (formerly Office too), to highlight some of the subtle aspects people may have missed.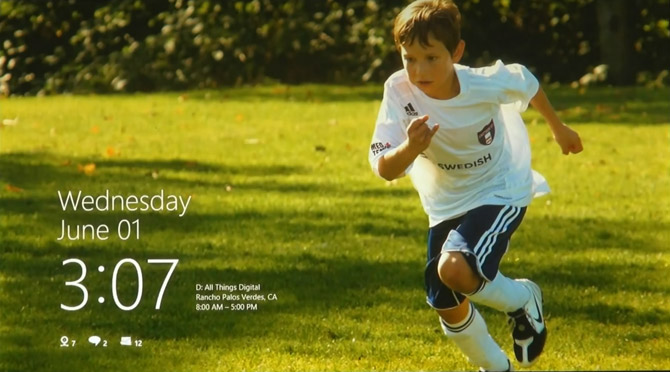 Straight off the bat, the lock screen is reminiscent of Windows Phone 7 right down to the layout of the notification icons. Possibly for the first time too, the Windows lockscreen will actually provide useful information including the date, upcoming calendar appointments, notifications (although it's not clear what the first icon represents, the others are most likely unread IM messages and email) and a personalized background picture.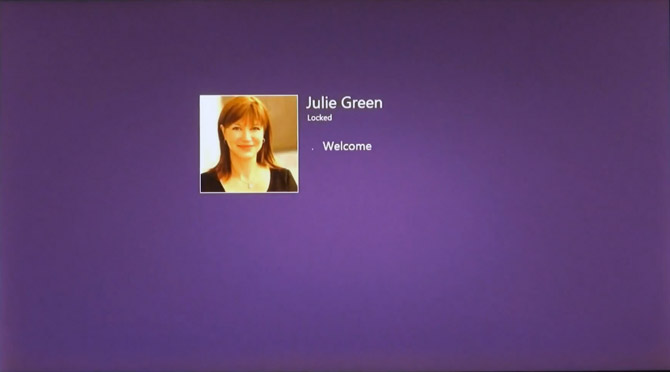 Unlocking the lockscreen reveals a user selection screen that was as quick as it is brief. Presumably, this screen would present a selection of accounts in a multi-account scenario and a password entry for accounts which are protected.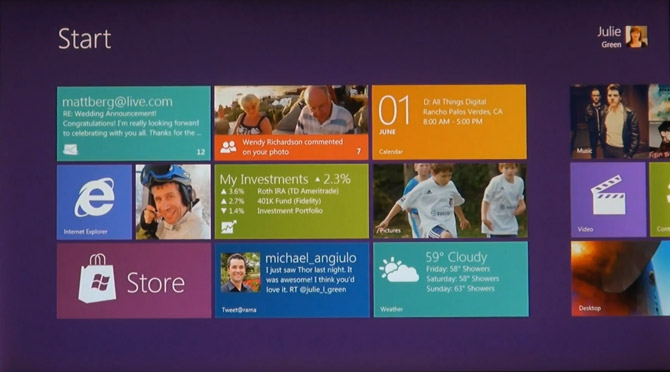 The new Start experience too takes inspiration from Windows Phone 7's Start screen using a combination of double-width and square tiles. As expected, tiles contain dynamic updates from the application – for example, an email snippet and weather forecast. An interesting note is the spacing between columns, per three tiles, to subtly indicate paging.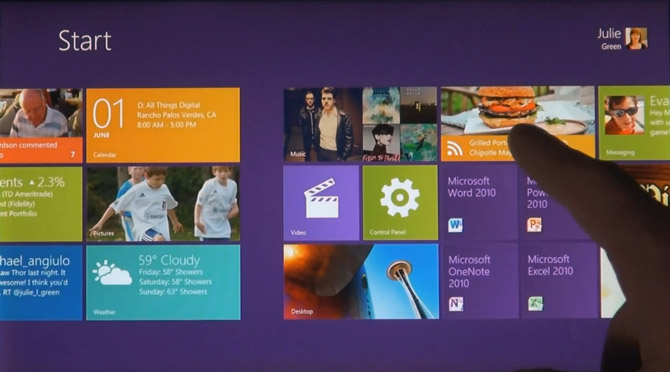 Traditional Windows applications can also join the party with the name and icon displayed as a square tile.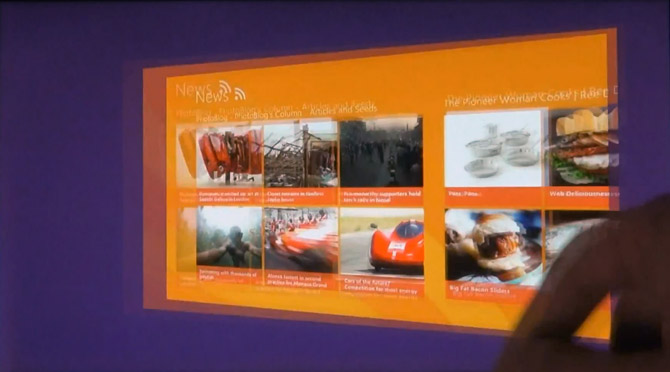 True to the "motion" mantra of Metro, Windows 8 utilizes a range of plane-projection animations to transition between screens. Launching and closing applications swivels the application towards and away from you as if it was it was a door.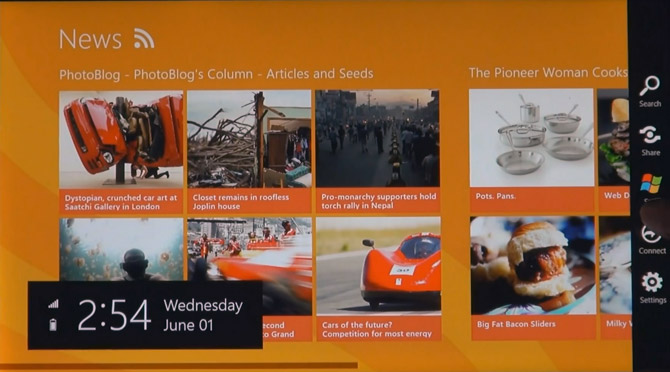 Swiping the finger from the right edge of the screen opens a new "quick-access" panel that offers "Search, "Share", "Windows", "Connect" and "Settings". Whilst most of these are self explanatory, "Share" and "Connect" are still a mystery indicating some native system functionality not yet demonstrated. Kin Spot for Windows?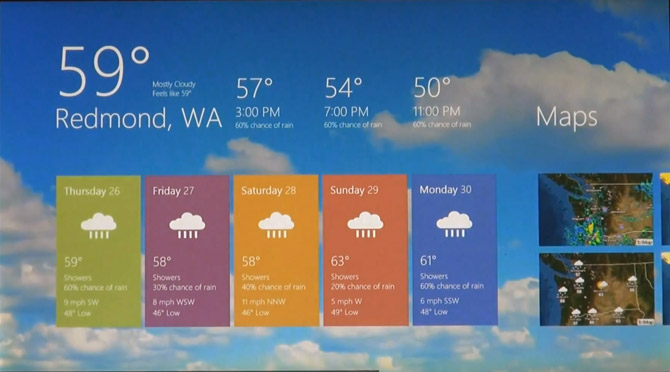 Immersive applications for the new UI appear to primarily based on the panoramic style from Windows Phone 7, organizing information into screen-width columns which clip at the edge of the screen. Large titles and stenciled icons also make familiar appearances.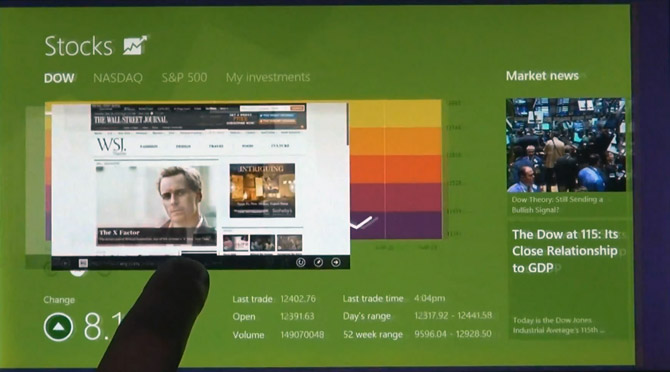 Application switching is one aspect where this UI falls a little bit short. Swiping from the left as demonstrated would "flick" out an application, replacing the current application on the screen. What concerns me is that there is no visual indication of what applications are in the backlog and how one can switch to a specific application without knowing its location in the stack. I hope this is still a work in progress.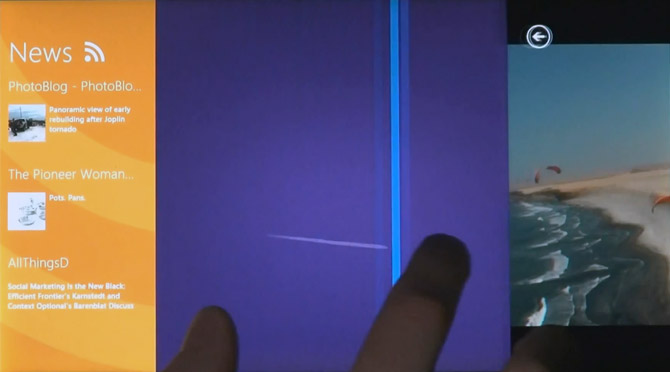 On the other hand, Windows 8 offers an innovative spin on multi-tasking with an implementation of snapping that Microsoft actually patented back in 2005. Two application can be displayed side-by-side, separated by a slider than can be dragged to resize both of them.
Applications of course will have to be aware of their dynamic sizing and rescale content appropriately, for example, the RSS reader changes from a tile-based layout to a list.
The touch trail can also be seen in the screenshot.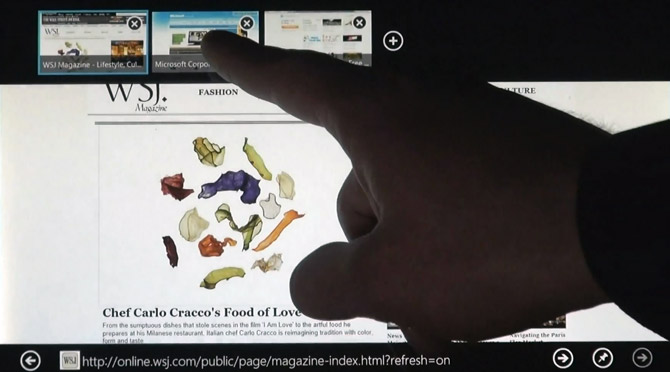 To fit with the edge-of-screen theme for this new touch UI, in-application menus appear to be constrained to only the top and bottom of the screen. For example in Internet Explorer 10, swiping either the top or bottom of the screen opened the tabs panel and address bar respectively.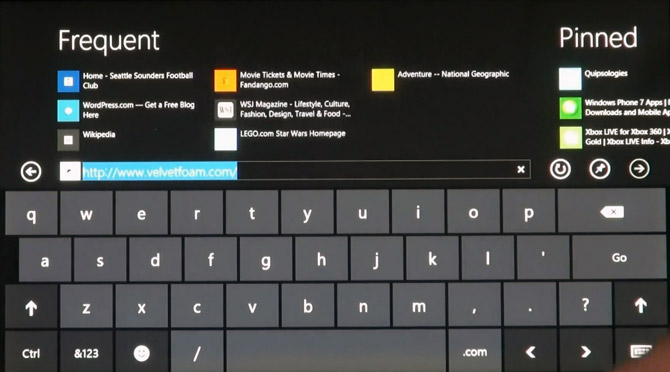 The default soft input keyboard (SIP) is almost an identical replica of the Windows Phone 7 with its trademark emoticon menu.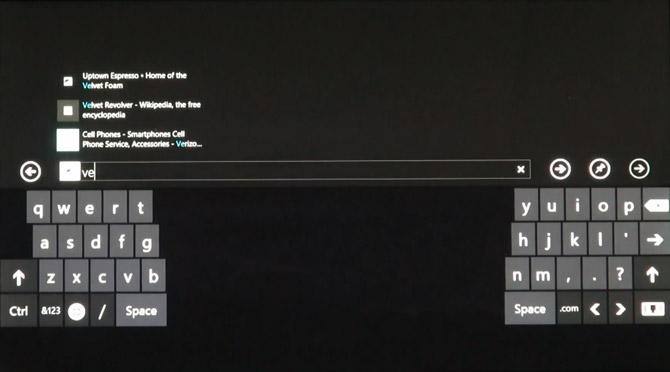 Unique to Windows 8 however is a new SIP layout optimized for a two-thumb typing experience when holding a smaller slate-format device. Its effectiveness will have to be tested.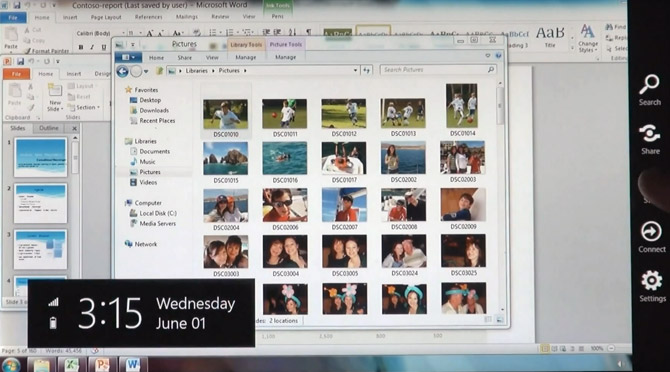 Perhaps the most interesting aspect of this new UI is the fact that it doesn't just sit on top of Windows, like Windows Media Center for example. As demonstrated, both the application switching and system menu capability remain when viewing the traditional Windows desktop and there's no "application" running in the taskbar. It is very much baked into Windows 8.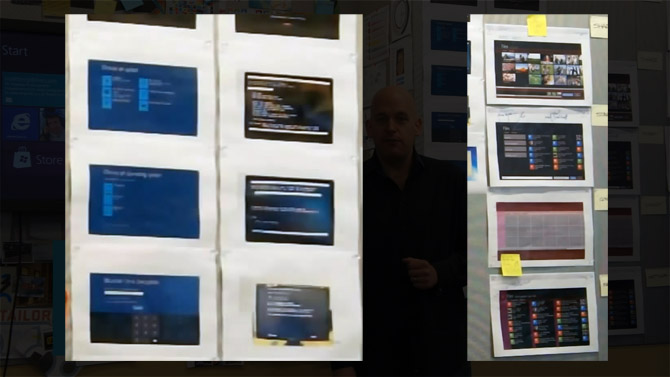 Finally, as a bit of icing on the cake, several screen mockups appear in the background of the video that I've enlarged for a better look. On the left appears to be some mockups for the out-of-box-experience, with what appears to be a PIN set up screen. On the right are some alternatives for the file browser in the icon view, lists view (with folders or filters?) and an input box of what I can only imagine to be search related.
Although there is still an argument for smaller but more frequent evolutions of Windows, there's no doubts now that Windows 8 is going to be a serious and strong contender in the ring of natural user interface computing, together with Windows Phone Mango.
Of course, there's still a large chunk of Windows 8 under the hood yet to be revealed so it's going to be an interesting few months leading up to the BUILD conference.