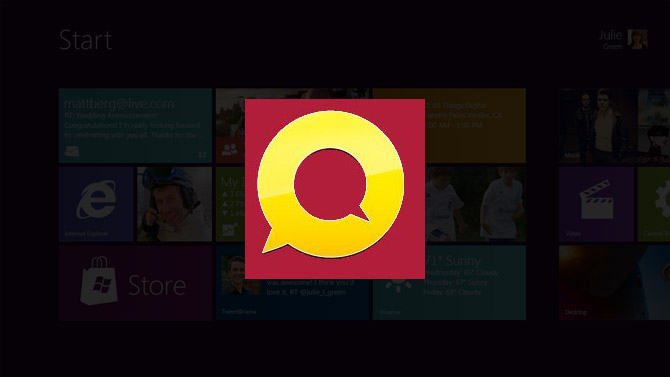 I don't normally pay too much attention to what applications appear on my Facebook news feed but recently "Socialite" caught my eye for no other reason than an interesting icon. Digging deeper, this otherwise generic application placeholder reveals an intriguing connection to Windows 8.
A useful feature of Facebook Applications is the ability to view who of your friends use the application. In this case, it provides an invaluable context.
Out of the 393 currently active monthly users reported by Facebook, the 10 people I can see using the application and the listed developer of the application are all Microsoft employees who work in the Windows organization and presumably on Windows 8. Even the President of the Windows group, Steven Sinofsky, is also a user. However due to interesting circumstances (he blocked me on Facebook), I can't verify this personally.
It was only days ago Mary Jo Foley revisited the "[email protected]" Twitter application shown briefly during the Windows 8 demo at the D9 Conference. Although Socialite is also the name of a Mac social application, it should imply a much broader reach than just Facebook.
As the social integration in Windows Phone 7 is proving to be a practical and useful differentiator of the platform, it would make a lot of sense for Microsoft to bring similar functionality into Windows 8 as well, and Socialite might be at the heart of it. Having said that, hopefully there's still room for MetroTwit.