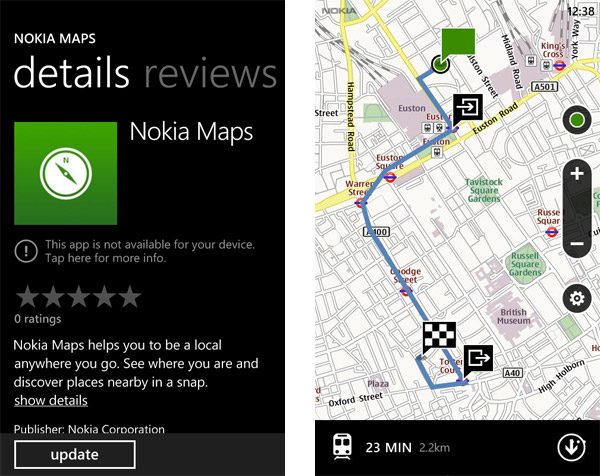 The marketplace listing for the Nokia Maps application for Windows Phone 7 have been revealed thanks to a placeholder application that has been discovered by wpxap.com which has since been shared on the xda-developers.com forums.
The highly anticipated Nokia maps application is presumed to be exclusively bundled with the Nokia Windows Phone 7 devices to take advantage of their proprietary and highly regarded Nokia (Ovi) Maps service. Since the application is currently a placeholder for testing purposes, the marketplace listing and four screenshots are all that we have to reveal some of the features users can expect.
The description reads,
Nokia Maps helps you to be a local anywhere you go. See where you are and discover places nearby in a snap. Get reviews, uncover new destinations and reach them with smart routing for public transport, walking and driving.
From what can be seen from the few screenshots published, the application seems to feature a pretty simple Metro-inspired UI with a large pinned map area for search results. Place listings include both a short description, user submitted photos and reviews. In one screenshot, the route map includes the stops that users should board and deboard public transport.
The application also appears to support the full 22 locales that Windows Phone Mango now supports. All the screenshots below.