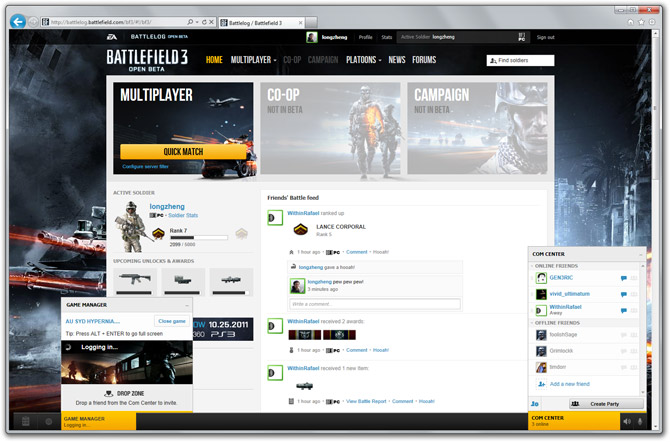 The first time I launched Battlefield 3 on Windows, a browser window appeared with the Battlefield website. I wondered to myself "did I click the wrong button?". It turns out I didn't.
For those living under a rock, Battlefield is no web game, in fact it's one of the most anticipated AAA game titles of this year. What initially seemed like a bad idea to most PC gaming enthusiasts including myself is now growing on me. In fact, this may actually be a sign of PC gaming evolving for the better.
For most current PC games, playing them involves finding and launching it from the Start menu full of other applications, sit through unnecessarily long and repetitive logos and introduction videos, wait for menus to load before waiting again for the actual game to load. Compound that with fancy but poor faux-user interfaces, everything besides the game can be rather tedious.
In contrast for Battlefield 3, it takes just seconds to sign in to the "Battlelog" portal which undeniably resembles Facebook complete with "Hooahs!" instead of "Likes". However with one click of a "Join game" button, it launches the game application straight into the match with loading times in seconds, rarely seen in any game of its genre before.
While Battlefield 3 isn't the first PC game to tie some aspects of the game to a browser – Quake Live made its debut as a browser game, it's much more refined with drag-and-drop party management, integrated voice chat and more.
Granted the current beta of the game and website is undeniably buggy, by having the actual game and its out-of-game management tasks clearly separated not only by design but by code, it also allows the game developers to fix one without relying on the other like they have already.
As a forum post on the popular gaming forum "NeoGAF" best puts it, "Battlefield 3's Battlelog and server browser is risky, bold, but absolutely brilliant", I can't help but agree. Although I would add not only is it pushing the boundaries of the genre, but evolving the PC gaming experience much more social and engaging experience than its console equivalents.
What's amusing is that console gamers too will have to log on to this portal to check their achievements and stats, but not have the ability to hop straight into a game.
Finally, if you're wondering the game is as good as it's hyped up to be, it's pretty awesome. Although I must state the "Operation Metro" map in the beta is a poor representation of the game. From the few hours I had the chance to play the 64-players Caspian Border, the game will be worth every penny.