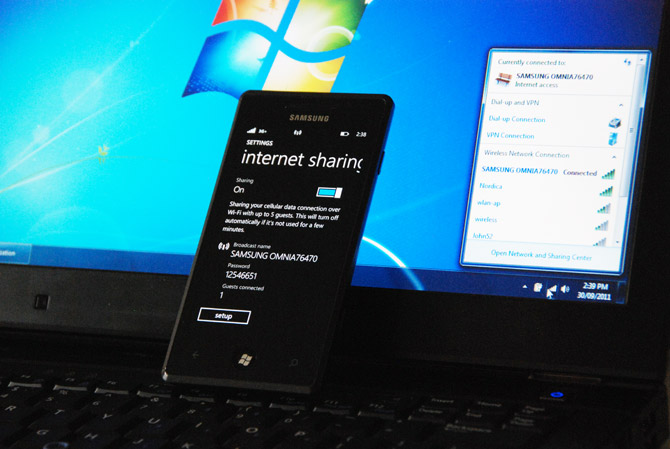 Forum user "OndraSter" from xda-developers.com deserves a round of applause for brute-forcing his way into the internet sharing feature of Windows Phone Mango. His fine work not only proves the internet sharing feature can be enabled with carefully tuned registry keys but it also works for legacy Windows Phone Mango devices like the Samsung Omnia 7.
Although the original process seemed a little daunting, there's a much much simpler tutorial by the Windows Phone Hacker which utilizes an updated homebrew application that has the hack built-in. I decided to bite the bullet to try it out because I actually need the internet sharing feature for my planned power outage next week.
After deploying a handful of homebrew XAPs, dialing Samsung diagnostic codes and a few long breaths during restarts, "internet sharing" finally popped up in my settings dialog. A quick flick of the "on" toggle, lo and behold, it actually works! My laptop was browsing funny memes on Reddit in seconds.
Microsoft's official statement on internet sharing was that it's currently only available to new Mango-era devices and would eventually roll out to some older devices with the supported WiFi chipset from Broadcom.
This hack proves at least two such devices, the Samsung Focus (US) and Samsung Omnia 7 are already capable with driver support presumably added in the Mango update(s). My heart goes out to HTC and LG users.
I did notice the battery draining much quicker and warmer just during the half-hour I was testing the tethering which might be one of the reasons why it's not natively enabled yet. Although I can't claim the process to be easy or safe, as someone who needs the functionality time to time, it's great to finally see it in Windows Phone.
Update: A spokesperson for Vodafone Australia seems to have confirmed the fact that HTC have not added support for internet sharing at the driver level for at least one of their devices, the Trophy.
Kieran McIlwain says:
…
We would love to include the Internet Sharing feature in this update, but unfortunately as it was added at the last-minute of the Mango development cycle HTC have not been able to include it in the first release of Mango for the Trophy. I can confirm that it is planned for a future release, however we don't have any ETA at this stage. As always we will keep you informed in our weekly Device Software Wrap Up with any new information.