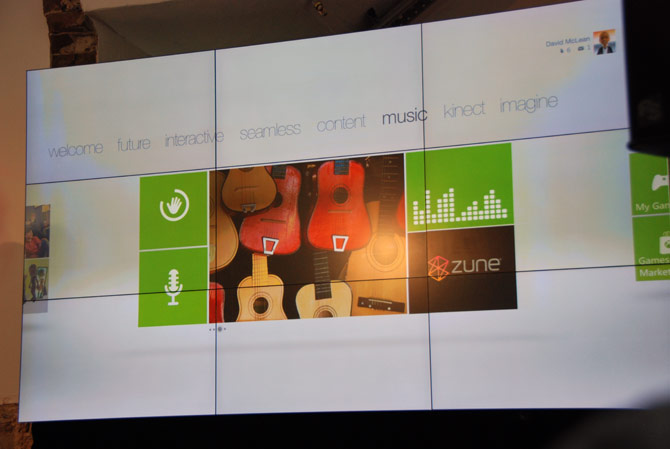 Australians will very soon have a voice on Kinect and music in their ears. At a press event in Sydney today, Microsoft Australia made two announcements regarding the Xbox and Zune services that will be enhancing the service later this year. The first, Kinect voice capability is going to be available from mid-December and Zune Music Pass will be available from November 16.
First and foremost, Kinect's voice menuing capability, which was not available at launch to users signed in to Xbox Live with an Australian account, will finally be enabled mid-December. It's possible this date might also be when the tile-based Xbox Dashboard will roll out globally. Microsoft explains the delay of this feature was due to localization for the regional accents.
The more important announcement is the long-overdue availability of Zune Music service in the land down under. Although this is definitely good news, there are still some gotchas.
The Zune Music Pass in Australia will cost $11.99 per month, giving users unlimited listening capability on their Zune software, Xbox and Windows Phone devices to a library of about 11 million songs at launch. Unfortunately, unlike (early adopter) Zune Pass subscribers in the US, Australian users will not be granted the promotional bonus to keep ten songs per month (since discontinued).
In addition, users who are shy to subscription services might be slightly dissapointed. According to Microsoft representatives, songs or albums will not be available individually priced. Apparently this is not something that will be available soon after launch either.
Update 2 (31/10): A Microsoft Australia representative has clarified after resolving the confusion with Microsoft US, there will be individual purchasing of songs and albums from the Zune marketplace at launch (Nov 16).
They however did not reveal pricing, but I anticipate it would be similar to when they were testing.
It's nice to see the internationalization ship finally moving again and in the right direction but I guess one can't ask for too much at a time.
Update: Microsoft Corp (US) has contacted me stating there will be individual song and album purchasing at launch of Zune Music in Australia. This contradicts what Microsoft Australia insists otherwise. I'm waiting to hear back after they duel it out.