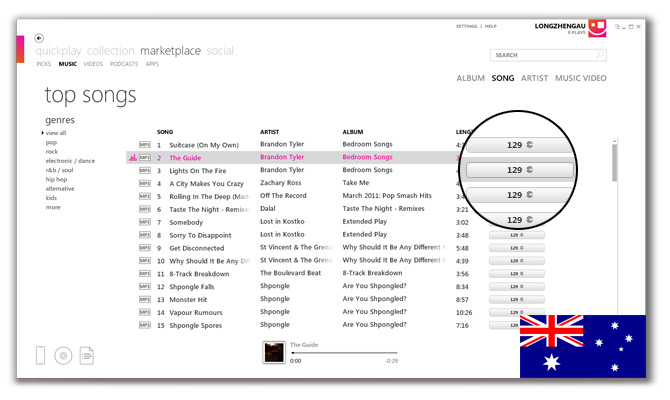 Earlier today, an anonymous user pointed out to me that Microsoft appears to have begun discretely testing the Zune Music Marketplace for Australian users. Zune 4.8 users who have their system location set to Australia and/or an Australian Live ID will now see the "Music" tab teasing the goods.
Since this is believed to be just a test, unfortunately it's just a small and unusual collection of songs. Nevertheless, the test does reveal the pricing for songs and albums Microsoft may have settled on, with beloved Microsoft Points no less. Songs costs 129 Points (AUD$2.13) and albums appear to be priced per song capped at 1299 Points (AUD$21.43).
Even the pricing does seem unfairly high in contrast to the US store with the exchange rate in mind, it's actually comparable to iTunes' current pricing of AUD$2.19 per song.
With Windows Phone Mango just around the corner where the availability of Zune Pass subscription is also rumored to be expanding, Zune seems to be finally landing on our shores, somewhat five years later.
Update: Microsoft has also enabled "Podcasts" as we are now a country worthy enough to enjoy them.