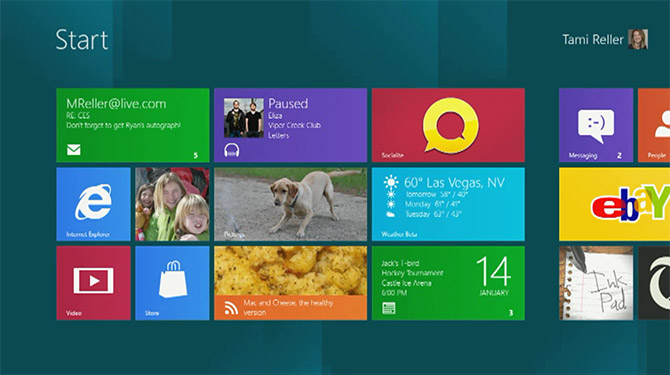 Just in case the Tweet Choir left a bad taste in your mouth, here's a quick refresher on something during the Microsoft CES 2012 keynote that actually mattered: the Windows 8 demo by Tami Reller, Chief Marketing Officer of the Windows division.
Although the 10-minute long demo does not reveal any breaking new features or functionality, there's a number of subtle and interesting changes in this unidentified build of Windows 8 compared to the Developer Preview released four months ago. Here are some of the ones I spotted.
It looks like custom accent colors are finally enabled with the teal-colored background. Like Windows Phone, the accent color is used throughout the OS including but not limited to just the panoramic wallpaper.
Start tile for the first-party Camera app (unfortunately not demoed).
Lockscreen showcased additional icons for messaging and calendar (apps stripped from the Developer Preview).
Additional button in the bottom/right corner when using the mouse on the Start screen, activates semantic zoom.
The music app is officially listed as the "Microsoft Music App" in the Start menu search. As one Twitterer quips, "There's no stopping Microsoft's creative-naming train."
Placeholders in the Windows Store might be hinting at the third-party apps that will be available for the beta in February: Evernote, Cut the Rope, eBay, Pixel Lab, Toy Soldiers, Pinball FX 2, PiratesLoveDaisies, Wordament, Never Mind the Bullets, Air Craft, Animoto, Picstream, Inkpad, Notespace, Notify Me, Invensys SimSci-Esscor, Carmen Sandiego 4, BarMax ($999 fake app), The Telegraph, AccuWeather, Conde Nast collection, iCookBook, Stocks, Piano, Grantophone, Kobo and USA Today.
In Metro Internet Explorer, the page icon has been changed into a spanner settings icon.
The virtual keyboard had its CTRL and special-characters buttons swapped (from CTRL/123 to 123/CTRL). The smiley button also has vertical lines around it.
The desktop's taskbar had a gray opaque treatment making it blend in much better with the new dark and flat Start-button
If anyone else wants to put on their Sherlock cap too, here's a gallery of the screencaps I was able to extract from the webcast.