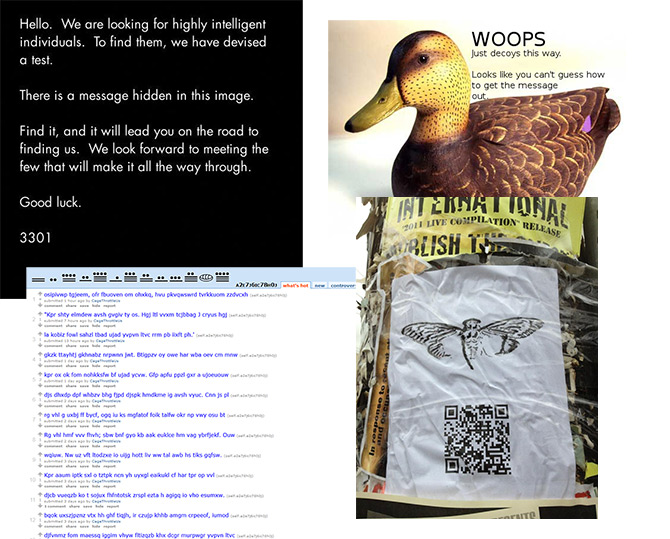 What does the Caesar Cipher, a picture of a duck, Mayan numbers, King Arthur, 2143909608, 845145127.com, GPS coordinates in Warsaw, Paris, Seattle, Seoul, Arizona, California, New Orleans, Miami, Hawaii and Sydney have in common? They're all pieces of an online cryptographic puzzle game that began earlier this January.
It all began with a seemingly generic image uploaded to the 4chan community boards with a simple message which reads
Hello. We are looking for highly intelligent individuals. To find them, we have devised a test.

There is a message hidden in this image.

Find it, and it will lead you on the road to finding us. We look forward to meeting the few that will make it all the way through.

Good luck.

3301
Not before long, groups of people from 4chan and Reddit pooled their collective intelligence with the goal of solving these puzzles which has included secret messages hidden in images, decrypting cypher-text using base-20 Mayan numbers, calling a US-based phone number.
The last major development of the puzzle stems from 14 GPS coordinates. Participating players who visited the locations found a piece of paper taped with an unique QR code. No surprise that these codes led to more cryptographic puzzles which takes the puzzle to the darknet with TOR.
Progress may seem to have come to a halt but that's because the puzzles have become personal. One participant by the name of "vacant" on a community IRC channel explained the participants have since been asked to solve the puzzles in private, suggesting the end is close for a few lucky ones.
Although no individual or company has yet to claim this ARG (alternate reality game), the complexity of some of these puzzles, including the diversity of locations around the world, suggests this could be backed by a technology company or intelligence agency looking for a few smart hires.
Even Microsoft has dabbled in ARGs with the critically acclaimed "I love bees" campaign for Halo 2 and "Vanishing Point" campaign for Windows Vista which even included a trip to space.
Unfortunately for the winner of the Vanishing Point never had the opportunity to go as the space-travel company appear to have ceased its operations. Hopefully the winner of this ARG gets a much more tangible prize.