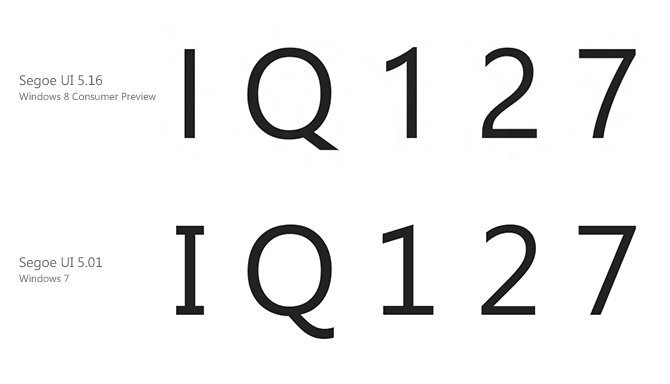 The hallmark Windows font, Segoe UI, has gone under the knife for its appearance in Windows 8 with a handful of changes and improvements. Some obvious – styling of particular characters of numbers, and others not so obvious – addition of OpenType stylistic sets, ligatures and international character sets.
Thanks for a heads up from David Warner, Microsoft has been slowly bumping up the version number of Segoe UI from 5.01 in Windows 7 to 5.12 in Windows 8's Developer Preview and more recently 5.16 in the Consumer Preview.
The most obvious changes out of the box are in the characters "I, Q, 1, 2, 7" where the serifs in I and 1 are removed in favor of a more genuine san-serif look, the tip of the Q straightened but 2 and 7 more curved.
The new Segoe UI also adds support for OpenType stylistic sets and ligatures which increases variation across the standard character set. In fact, the old variations of the characters above are included in the alternative style set.
Microsoft's fonts team has also worked on improving the hinting of Segoe UI, especially the Light variant which was never properly hinted. The new version has much more consistent hinting across the entire range of font sizes, especially at sizes 20pt, 24pt and 26pt. Just take a look at the "X" in the image below to see what I mean.
With over 2000 extra glyphs and 800 extra characters, the new versions of Segoe UI also broaden internationalization support with additional language character sets for Armenian, Hebrew, Georgian, Thai, Lisu and various Indian and African language.
For a side by side comparison between the two versions, take a look at the image below kindly provided by David Warner.