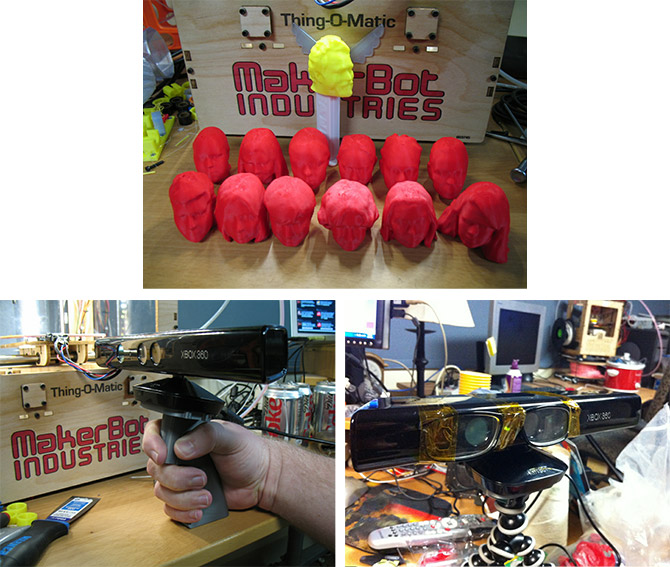 Photo credit Tony Buser from Flickr (links below)
Ever since Microsoft Research showed off the extremely impressive KinectFusion demo and shortly after published its research findings, developers have been trying hard to replicate the mad science to give more people the ability to turn everyday objects into 3D models with just a Kinect sensor.
Today Greg Duncan on Channel9's Coding4Fun posted a video to ReconstructMe, one of the better implementations of such a third-party software that comes very close to what KinectFusion is able to achieve, and then some.
Among the alternatives including PointCloud's open-source library and Materix 3Dify, ReconstructMe seems to produce the best results.
Currently free for non-commercial use, ReconstructMe allows anyone to take a Kinect sensor connect to a Windows PC and freely roam around objects to generate industry-standard 3D models that can even be printed straight by a 3D printer. And one 3D-print hobbyist, Tony Buser, has done just that.
In fact, Tony is so enthusiastic about Kinect scanning he's even developed two mods to the Kinect that specifically improve its practical scanning use.
The first is a hand-held attachment that allows him to hold the Kinect like a barcode scanner. And the second, the an ingenious one, is attaching a pair of reading glasses that overcome Kinect's close-proximity flaw to enable more detailed scanning of smaller objects with impressive results.
As I'm sure the software will improve with time and more people have access to 3D printers, we'll see more and more practical hobbyists explore the scanning capabilities of the Kinect to make home replication of popular objects a practical and affordable reality.