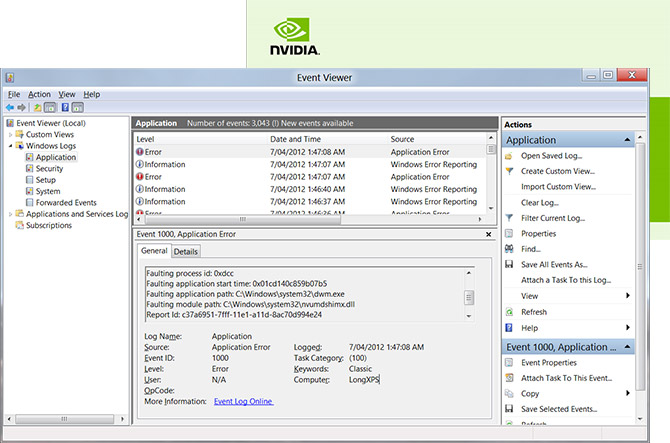 tl;dr If you have a dual NVIDIA & Intel graphics configuration and are running the Windows 8 Consumer Preview experiencing crashes (black screens) when launching Metro apps, there's a workaround.
Last week I received a new Dell XPS 15z laptop (which has its own set of issues but I digress) and one of the first things I did was to load the Windows 8 Consumer Preview on it for it to become my primary Windows 8 development machine.
Sooner than later, I discovered launching some Metro applications (mostly third-party ones) would flicker the screen black and eventually send me to the Windows login screen. This was a real roadblocker.
After some quick research and brute-force trial and error, I've come up with an elaborate but effective workaround for those of us lucky enough to have an alternate GPU fallback in the system.
Verify you have the latest NVIDIA drivers for Windows 8 (at the time of writing 296.17)
Open the NVIDIA control panel by right-clicking on the desktop
In "Manage 3D settings", choose "Integrated graphics" as the preferred graphics processor globally
Apply/save the setting
Restart Windows (this is to ensure DWM will use this new setting)
Open "Device Manager" by right-clicking on the bottom left corner of the desktop
Expand the "Display adapters" section
Right click on the NVIDIA item and click "Disable"
(Depending on your luck, you may be sent to a black screen where you'll need to restart. The setting may also require a few attempts to take effect. Usually takes me 2 tries.)
Verify the NVIDIA card is disabled in the Device Manager. (It will have a small gray icon)
Try to launch a Metro app which crashed earlier, should work now
Aside from the obvious fact this won't work if there's no alternate integrated graphics processor, this workaround also has the side-effect of disabling some display functionality which may be tied directly to the NVIDIA GPU – most likely the HDMI port and of course 3D grunt processing power.
I'm hoping this is only a temporary workaround until NVIDIA fixes the underlying crash in their next beta driver update.
On a related note, AMD users should also be aware that the Windows 8 Catalyst drivers are also plagued with a problem in OpenGL, but there's a workaround for that too.