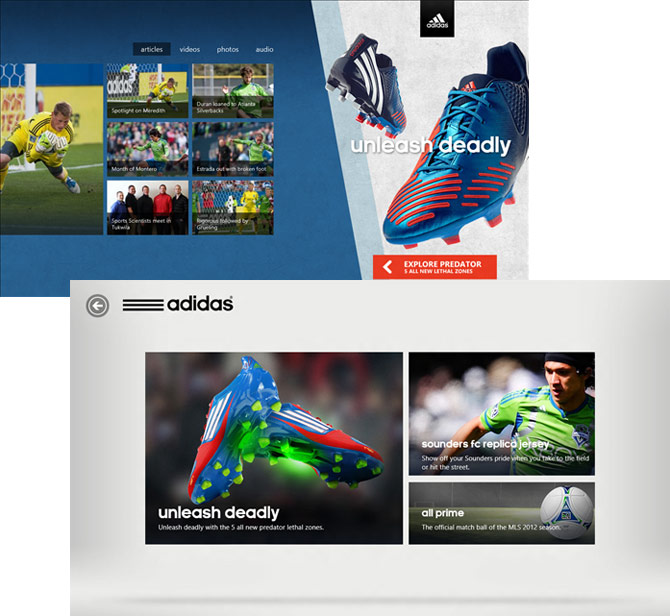 Microsoft has been brainstorming with top creative agencies around the world on how to make ads in Windows 8 Metro apps look and feel much slicker. During the week of Cannes Lions 2012 advertising conference, Microsoft is showing the first of many concepts it hopes to share in the coming months.
Up until now, the Microsoft Advertising SDK for Windows 8 (in technical preview) has allowed developers to embed standard text, image and video ads in Metro apps with relatively standard and ugly display ads. But that might change for the better as Microsoft is hoping to push the boundaries.
Our creative agency partners include AKQA, Big Spaceship, Razorfish, Team Detroit, UM and Y&R. All six will be lending us their creative minds and expertise as we co-develop early advertising concepts. With these partners, we will look to create a new standard for what ads within Windows 8 apps can and will be, as well as ensure that experiences will be engaging for consumers and effective for marketers and publishers.

In the example posted today featuring the Seattle Sounds Football Club app, an Adidas ad is shown to seamlessly become part of the panoramic Metro experience by blending into the far right edge of the wide application view. Clicking on the ad is said to reveal a full-page Metro experience with rich advertising content and a simple one-click back button to the app.
For an ad, this is admittedly a much more beautiful and integrated experience than the traditional banner block. The ad becomes an extension of the app, rather than a nuisance within the app.
It remains to be seen if Microsoft will be able to deliver this (and the other concepts it will reveal) as a solution that developers can simply integrate into their apps through an SDK. If so, Windows 8 Ads in Apps might actually be a worthwhile monetization strategy for developers without degrading the user experience.