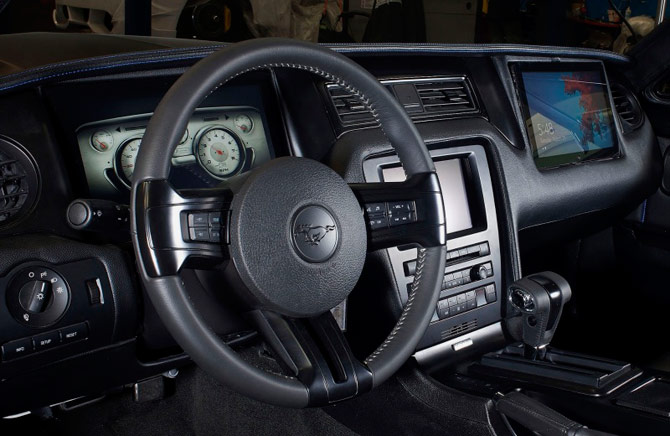 Microsoft's Channel9 Project Detroit car modification created a
1967 Ford Mustang Fastback outfitted with the latest in Microsoft technology.
The Microsoft Connected Car team is dreaming big for the future of automotive technology assistance.
In a recent job posting, the team teased an outline of their plans to leverage the full suite of current and upcoming Microsoft products and technologies to create a compelling automotive platform that sounds like the gizmo-car from the Knight Rider.
We, the Microsoft Connected Car team, have a strong track record and an extensive customer base in the automotive industry. In the past fourteen years, we delivered various iterations of our Windows Embedded Automotive platform to the automotive suppliers of major auto brands such as Honda, Nissan, BMW, Mercedes-Benz, Aston Martin, and McLaren. We also partnered directly with select automakers to create integrated Telematics products such as Fiat Blue&Me, Ford SYNC, and Kia UVO. Featuring cutting-edge communications, travel information, entertainment, and accessory control via voice and touch interfaces, these products have been highly successful, increasing the automakers' US sales of by up to 35% and telematics adoption up to 70%.

Yet our ambitions do not end there. For the next generation of the Connected Car Platform, we plan to leverage the full power of the Microsoft ecosystem including Kinect, Windows 8, Windows Phone, Windows Live, Bing, Azure, and Tellme. The combination of rich local sensing, user identification, cloud access, and data mining will transform tomorrow's cars from passive objects into intelligent assistants for both the driver and their passengers. The new Connected Car will know its riders, and will interact with them naturally via speech, gestures, and face tracking. It will learn their habits, and offer personalized contextual information and driving assists to get them to their destination as quickly and safely as possible. Through a growing catalogue of applications, it will inform and entertain them, and keep them connected with the people and information they care about. The possibilities are endless.
With those goals in mind, perhaps the Connected Car team should have a talk with the Channel9 team who in March of this year showed off the final result of Project Detroit, an experiment to outfit a 1967 Ford Mustang Fastback with a suite of technologies.
In a matter of months they modified the car to include a Windows Phone remote lock/start app, built-in WiFi hotspot, digital instrument cluster, passenger heads-up-display, Ford Sync, Kinect backseat entertainment, Kinect front & back sensors, cloud analytics of car statistics and a customizable rear windshield message display.
Too bad that car is one of a kind, but hopefully the Microsoft Connected Car team can help make it a reality, or at least an expensive factory-installed option.