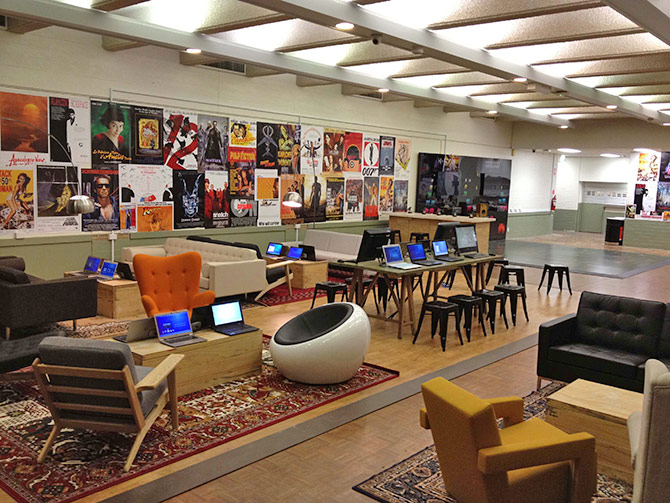 There might not be any Microsoft Stores in Australia but that hasn't stopped Microsoft Australia from setting up an environment for people to go hands on with an array of Microsoft products and services in a friendly and somewhat trendy environment. The first "Microsoft Tech Lounges" opened yesterday at Monash University, one of Melbourne's largest universities. (Edit: First Tech Lounge was in University of Sydney)
The room's design, fittings and equipment were entirely sponsored by Microsoft. It has on showcase two Xbox 360s with Kinect, a PixelSense (formerly Surface 2) table, numerous laptops, desktop computers and even a stand of Windows Phone devices. The decor reminds me of a hip coffee shop, especially the "Microsoft Cafe" campaign they tried in Paris a few years ago.
Open from 8am to 6pm, the room is suppose to "provides students with a place to study, play, socialise and interact with the latest Microsoft technologies" Paul Randazzo, Education Audience Marketing Manager for Microsoft Australia said.
When funding always seems to be a hot issue, I'd imagine universities would have held their arms wide open when Microsoft proposed the idea of providing free and state-of-the-art technology as well as the renovation of their facilities.
For Microsoft, who already have a pretty strong connection to Australian university students through the Microsoft Student Partners program, this is a much better channel for them to put products directly in students' hands who are most likely to purchase at least one or two laptops and phones during their studies. Although the reports don't mention anything about retail, I'd imagine there would be some enticing student discounts on offer.
TechGeek.com.au also reports (who is a student at Monash University) Microsoft Australia plans to introduce the Tech Lounge to the University of Sydney, Adelaide Univeristy and Curtin University in Perth.