At Comic-Con International today, the official trailer for "Halo 4: Forward Unto Dawn" was announced today. It's a digital video series that will span across five episodes, starting Oct. 5, 2012 and ends Nov. 6 which aligns with the official release of Halo 4. It will be made available through MachinimaPrime's YouTube Channel.
For Aussie Halo fans, the film stars a young Australian actor, Tom Green, as the male lead character. You may also recognise the female lead from Chronicles of Narnia, Anna Popplewell.
The movie, with a 90-minute extended edition after Halo 4's release, tells a story of a young cadet in the Halo universe. Although the story looks to be a mix between action and romance, Halo's legendary Master Chief does eventually make an appearance after the Covenant attack the training school.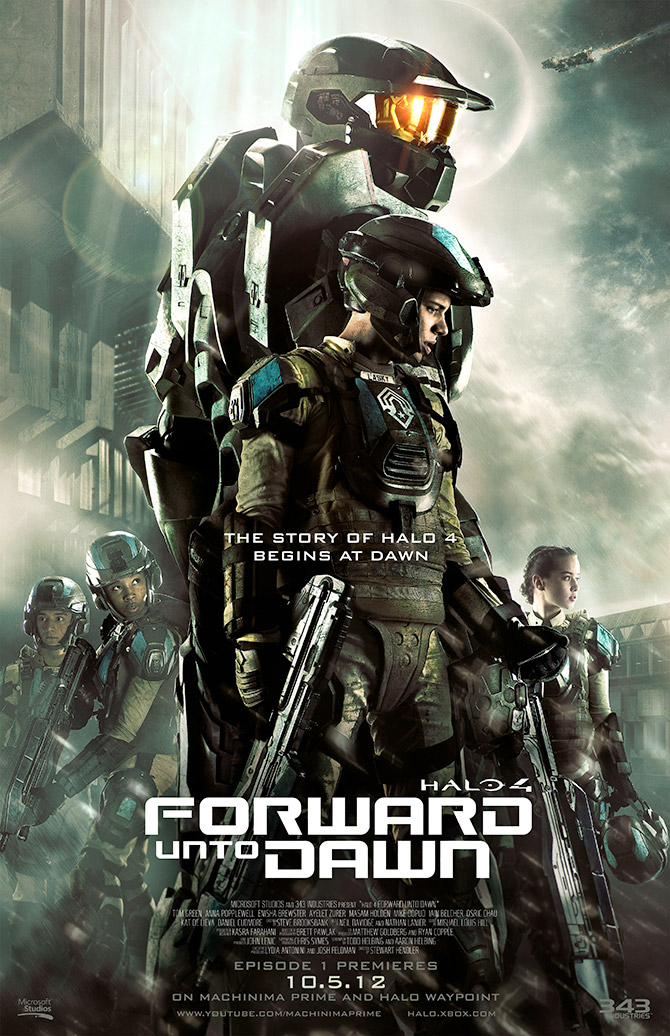 "Halo 4: Forward Unto Dawn" tells an exciting story of heroism and sacrifice on a scale never before seen in the "Halo" universe, taking fans back to the beginning of the human and Covenant war and leading into the events of "Halo 4." Set against the backdrop of a United Nations Space Command (UNSC) military academy, a group of highborn cadets are training to be the next generation of soldiers in the UNSC's ongoing war with insurrectionists in the outer colonial planets. Among these cadets, Thomas Lasky struggles with his doubts about this war, and with the burden of expectations he may not be able to carry. As Lasky comes to terms with his potential as a military leader, the terrifying alien alliance known as the Covenant arrives and turns his world upside down. Inspired by the Master Chief, he must decide what it means to be a hero. "Halo" fans who experience Lasky's thrilling origin story in "Halo 4: Forward Unto Dawn" will be rewarded with special insights into the story of "Halo 4" and the "Halo Infinity Multiplayer" experience.

Directed by Stewart Hendler ("H+," "Sorority Row") and written by Todd Helbing and Aaron Helbing ("Smallville," "Spartacus"), "Halo 4: Forward Unto Dawn" features a diverse cast of established and up-and-coming Hollywood talent, including Tom Green ("Dance Academy") as Thomas Lasky, Anna Popplewell ("The Chronicles of Narnia") as Chyler Silva, Daniel Cudmore ("X2," "X-Men: The Last Stand," "The Twilight Saga") as the Master Chief, Ayelet Zurer ("Angels & Demons," "Munich") as Mehaffey, Mike Dopud ("Mission Impossible – Ghost Protocol") as General Black, Enisha Brewster ("Footloose") as April Orenski, Masam Holden ("Grey's Anatomy," "Elizabethtown") as Michael "Sully" Sullivan, Osric Chau ("2012") as JJ Chen, Iain Belcher ("Supernatural") as Vickers, and Kat De Lieva as Dimah.

"Halo 4: Forward Unto Dawn" is backed by a top-tier production team led by executive producers Lydia Antonini and Josh Feldman, former Warner Bros. and Playtone executives, respectively. Continuing its involvement with the "Halo" franchise, Legacy Effects ("The Hunger Games," "The Avengers," "Avatar") is creating specialised costumes and armor, and visual effects are being designed by an award-winning team led by John Sullivan ("The Pacific"). Production services are provided by Herzog & Co.