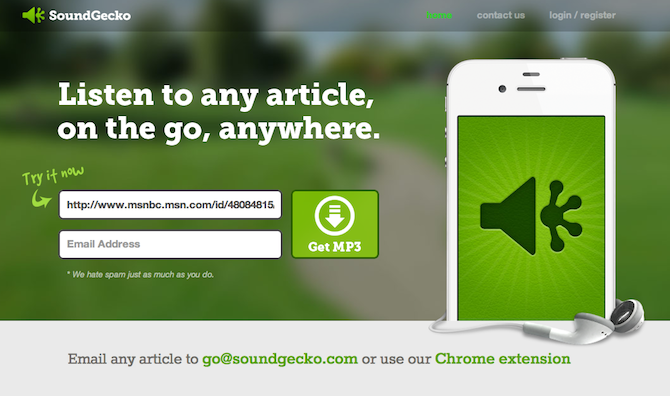 At Sydney today I had the opportunity to pitch and launch a startup product I've been working on (and using) in the last number of weeks called SoundGecko.
SoundGecko is a service that let's you listen to any article on the web, on the go, anywhere.
As someone who now commutes to the city and back every day, spending around 40 minutes on the train, I wanted an easier way to catch up on tech news without squinting at the tiny text on my mobile. Now, I just listen to them on the train. I even listen to reddit.com/r/bestof this way now.
There's three different ways of sending articles to SoundGecko: website, email or a browser (Chrome) plugin. In a matter of seconds, SoundGecko will send you back an email with a link to the MP3 file that you can listen to, on any device.
You can do all of this for free, without downloading an app and without registration. However if you do register, you get to use the cool iPhone app and also Google Drive/Dropbox sync that lets you listen to all your articles easily. By the way, this is all powered by Windows Azure as well.
Apps for other platforms (Windows Phone, Windows 8) will be coming soon. Please go check out SoundGecko.com.