When I used think "workstations", images of generic rectangular cases and screen popped in my head. Or at least that's what HP used to make. With the introduction of the Z1 earlier this year, HP is taking cues from its consumer offerings to bring together the best of design, performance and extendability to the world's first workstation all-in-one, which HP was kind enough to lend me one to use.
The first question that popped in my head was how is this different to the the iMac-like all-in-one consumer PCs HP have sold for many years now?
Besides the obvious specification differences which I'll mention later, the unique feature of the Z1 is an innovative case design that allows for easy upgradability and maintainability.
Like the hood of a car, the HP Z1's flip-open cover can be access without any tools by simply unlocking two hinges at the bottom. In fact you can even do this while it is on, although the manual advises against this. (But who reads manuals right?)
Once the screen is lifted from the reset of the shell, it's very open and easy access to the essential components – CPU, memory, hard drive(s), DVD drive, graphics card and power supply. Changing some of these is literally a snap.
Although I err on the side of "this probably isn't that useful day-to-day", I do applaud the inventiveness and engineering to make an all-in-one design easily upgradable, if not easier than a traditional desktop.
To live up to its "workstation" name, the Z1 sports a gorgeous and glossy 27″ high-resolution (2560×1440) display with an IPS panel for accurate 10-bit color reproduction. Although one would usually applaud the high brightness factor of a screen, it's unfortunate in this case there's no easy way to control it without HP's custom software and drivers (which do not work in Windows 8 yet).
Under the hood, the grunts come from a high performance Sandy-Bridge-era Intel Xeon 4 core hyper-threaded E31245 processor running at 3.3GHz (turbo boost to 3.7GHz) which comes with an integrated Intel HD Graphics P3000.
The standard model sports 8GB of DRR3 ECC RAM and a 1TB 7200rpm hard drive. Factory options are available for 10k RPM drives as well as SSDs.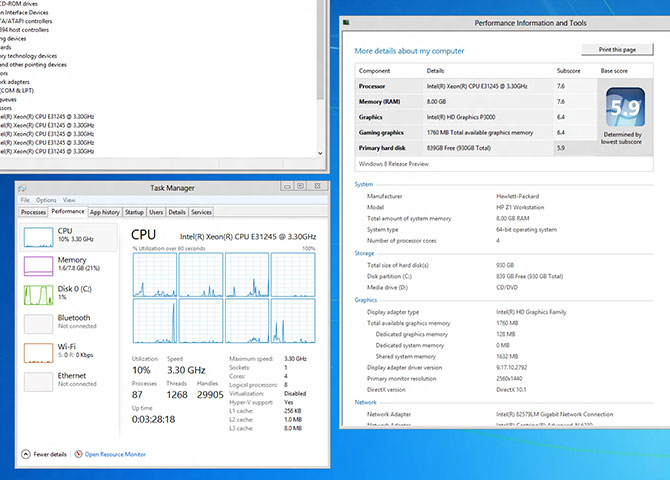 All of this means it runs Windows 7, Windows 8, Adobe Photoshop, Visual Studio and most other professional-grade tools like a current-gen desktop PC in the package of an all-in-one.
Neatly tucked away at the bottom of the screen is actually a set of SRS-grade stereo speakers which packs quite a punch, certainly capable enough to not worry about external speakers. At the top is a 1080p webcam which is decent enough for a Skype video call. On the side and back are a plethora of ports and inputs (multi-card reader, Firewire, USB3, audio, LAN, DisplayPort).
Interesting note about the Display Port is that it supports input as well as output, for the ability to turn the display into a secondary monitor for a laptop or another PC.
In use, the machine's many fans are actually extremely quiet and don't produce any audible noise at normal workloads. Holding everything together is a sturdy metallic frame which my only issue would be is extremely difficult to adjust its height and tilt which never seems to lock to the position I want.
At a retail price of $2499 AUD ($1899 USD), the HP is reasonably competitive to an Apple iMac 27″ of a similar specification. Having said that, even the two are similar in functionality, they are clearly aimed at two different markets.
A better way to think of it would be comparing this to a case-only Mac Pro (which starts at $2999 AUD), in the all-in-one package of an iMac. From that perspective, the HP Z1 is a clear winner.
If a workstation is what you want and have the budget for one, the Z1 certainly has the grunt and looks.