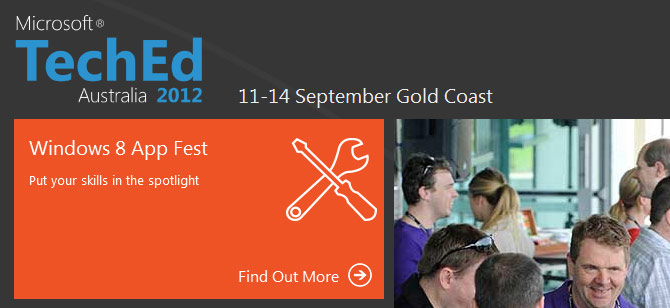 Microsoft Australia is hosting its own "hackathon"-style event at the TechEd Australia 2012 conference this year for Windows 8 developers to get their hands dirty building some cool apps.
During the 24 hour event, "Windows 8 App Fest 2012" encourages developers to come together to come up with interesting app ideas for glory in the Windows Store.
After brainstorming and pitching ideas to the group. Teams will form and code throughout the day, night and morning after before demoing the final product to the group once again. Mentors and industry experts will be on-site for assistance. (MetroTwit's David Golden may be one of them).
The event (Sep 10-11) preludes the actual conference where I would hope the "winning" Windows 8 app would get showcased during the opening keynote.
Unfortunately for some reason the event does cost $165 (on top of TechEd registration) which is a bit steep for a fun-spirited meetup. I hope Microsoft Australia will find a way to decrease the barrier to entry in the future to get more people involved.
Having participated in a Startup Weekend Melbourne event a few months ago, I think it's awesome to see these type of developer & startup events having more presence in the Australian technology community. It can definitely be a bit of a thrill to code for almost 24 hours straight, but the enthusiasm and environment can sometimes bring out the best in people.
At worst, it's a fun way to meet like-minded enthusiasts.