😀 Smile! The Unicode emoji characters from Windows 8 and Windows Phone are now also available to Windows 7 users through a new Windows Update released a couple of days ago.
Microsoft KB2729094 titled "An update for the Segoe UI symbol font in Windows 7 and in Windows Server 2008 R2 is available" is presumed to be made available through Windows Update soon.
This article introduces an update to the Segoe UI symbol font in Windows 7 and in Windows Server 2008 R2. This update adds support for emoji characters and some control glyphs that are included in Windows 8 and in Windows Server 2012.

Note Emoji characters come from emoji-capable platforms and devices. The platforms or devices enable users to easily insert emoji characters into documents, email messages, or chat conversations by using an emoji picker feature or an emoji palette feature. In Windows 8 or in Windows Server 2012, these characters are inserted by using the on-screen keyboard.
After installing the update, Segoe UI Symbol (version 5.01) should be installed in the fonts folder.
To see the new characters after they've been installed, I've put together a quick test page with the help of Wikipedia that puts Segoe UI Symbol's new Unicode superpowers to the test. Note: the backported set is not the full set as Windows 8 so there will still be rectangles.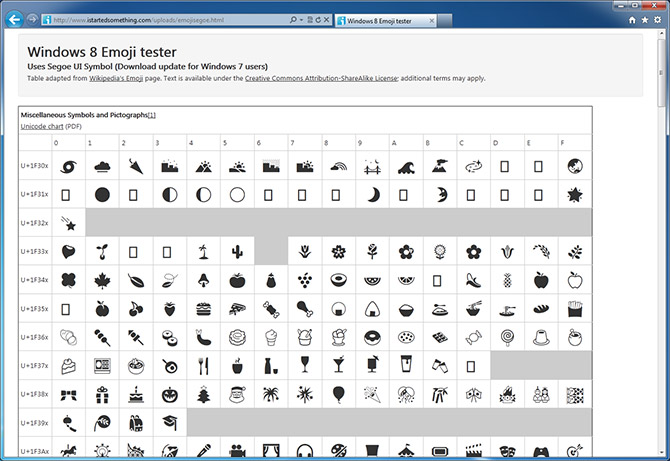 P.S. This guy 😷 looks like Bane.