It's been a few days since Microsoft introduced its new logo, you know, that one with the squares. Since then, I've been asked a very simple question many times "what do you think about it?"
Just to get that part out of the way, I quote from the Brand New blog.
(Microsoft) have all introduced Metro to the larger masses the new logo does not come as a surprise. It falls perfectly in place with what we've been seeing. Leading to a general shrug of the shoulders when it comes to this logo. I described it as "Meh" on internet television. There is absolutely nothing wrong with this logo but there is also nothing absolutely exciting about it.

You can't really hate it, because how can you hate four squares arranged in a square — if you hate on it, you have serious anger management issues. And you can't really love it, because how can you love four squares arranged in a square — if you love it, you have seriously low standards. All these statements are to say that Microsoft did the right thing: they are sticking to their design strategy and they are not antagonizing anyone.
It wasn't an issue with any of Microsoft's previous individual brands – Windows, Office, XBOX. Each demanded a certain amount of presence and respect in its individual market segments on its own merits. But side-by-side, you could tell it was the result of many separate graphics departments, legal teams and marketing strategies smothering what should have been a unified vision.
The question that people should have been asking is "what do you think of Microsoft's new consistency?" to which I would answer "hell yes".
The folks at Neowin.net have composited an interesting graphic of most of Microsoft's old-vs-new branding to show off what happens when you put in a little of effort in consistency.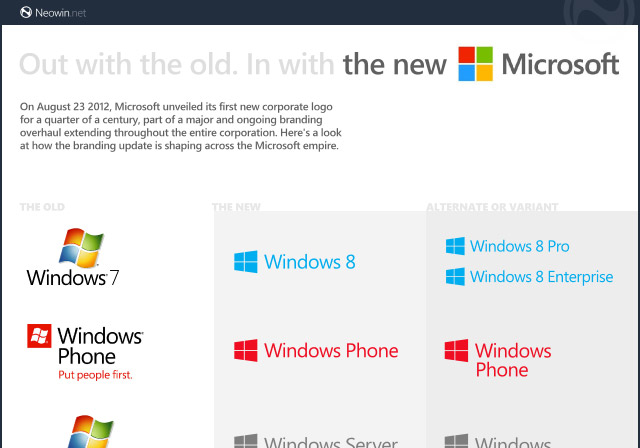 At least now it looks like it was all designed by the same graphics department.