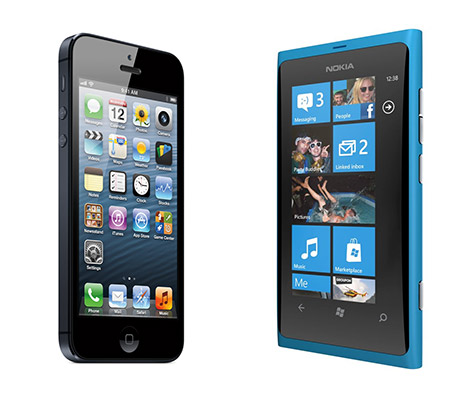 For my first iPhone, the iPhone 5 is a pretty nice way to ease into the mobile platform that started it all.
Putting aside the overblown Maps controversy, the hardware issues and my own gripes about battery life, the iPhone 5 and iOS 6 are both very refined and polished products that I've thoroughly enjoyed using for most part of this week.
While for the most part I think the iPhone 5 is a superior device than the Nokia Lumia 800 I was using and iOS 6 is much more powerful and polished than Windows Phone 7.5, there are actually a handful of features from Windows Phone that I sincerely miss.
People hub, "What's new" – Native social integration was a Windows Phone first and its integration into contacts is a timesaver. Being able to tap on a person and see all their Facebook, Twitter, Flickr and other updates combined makes stalking catching up with what friends' are up to is very useful.
Me tile notifications – Similar to the social integration above, being able to see all the Facebook and Twitter notifications for yourself in a single combined view saves a lot of time jumping in and out of many different apps.
Better Facebook events integration – Since iOS 6 introduced native Facebook support, it also integrates with Facebook Events into the Calendar. Unfortunately it doesn't allow much control so that all events including the ones I haven't accepted automatically show up in my calendar (especially Notification Center).
Stricter multitasking and battery life model – Windows Phone seems to enforce a much tougher multitasking policy for backgrounded apps. Through my own experience and what I've heard from others, manually closing backgrounded iOS apps is somewhat of a necessity to reduce the chance of apps unnecessarily consuming battery.
Hardware camera button – While the iPhone camera takes awesome photos, it's really hard to get to (if the device is unlocked). A dedicated camera button that not only launches the camera app but can also trigger snaps makes the WP7 camera experience much quicker and predictable.
Live tiles – I'm a little bit dumbfounded why Apple has not yet added the ability to dynamically update the app icon in iOS6, even though the Calendar app (changes dates) clearly shows it can be done. I don't even need the animated or flipping tiles of WP7, just a simple icon refresh through push notification is sufficient.
Better software keyboard – The Windows Phone soft keyboard feels to have much bigger hit-areas per letter and a more tolerant error correction algorithm. Multiple word suggestions above the keyboard (within easy reach of the typing position) is much easier than reaching out to wherever the word might be.
(Developer) XAML app designer – After briefly diving into Xcode and Cocoa, developing apps for iOS is a big hurdle for a "designer". XAML for Windows Phone is easy to learn for any designer with web development experience, and powerful enough to control every aspect of an app's UI behaviour.