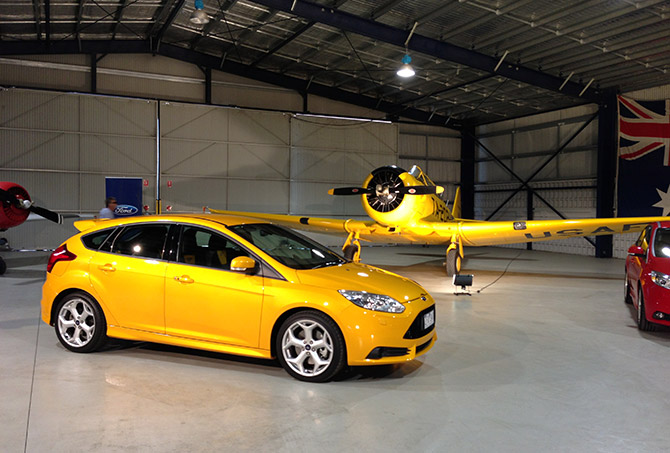 When our propeller plane landed in regional Australia and I was driven into an aircraft hanger housing World War II vintage aircrafts, I knew today was going to be a slightly different launch event than the technology product ones I'm used to.
Although I can't emphasize enough my lack of qualifications in this area, test driving cars is a lot more fun than reviewing mobile phone or tablets, I'll tell you that much. Having said that, I've been told a printer company once held a launch event for a "fast" printer to drive sports cars up to 200KM/h on a closed race course. Yeah, tough gig.
But back to Ford where today was the Australian launch of the 'hot hatch' Focus ST (Sports Technology) which received an impressive 9/10 score from someone who actually knows what they're talking about, the Top Gear show in the UK.
Driving it today on windy mountain roads and wide open highways was undeniably a thrill. Under the hood, Ford and other car manufacturers are packing in more software technology than just pure mechanics to make cars more fun and powerful to drive and simpler to manufacturer. I found three examples of this in the Focus ST.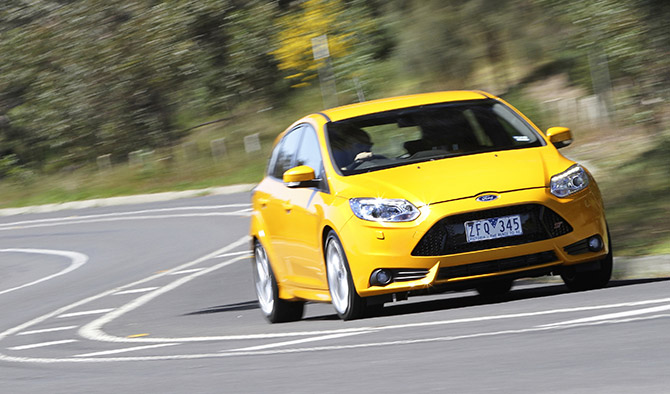 The first, for fun, is a feature Ford dubbed Active Sound Symposer. This is an electronically controlled valve that opens and closes based on a combination of engine speed, acceleration and gear selection.
Since quiet and loud are contradictory goals, software technology has enabled Ford to deliver both a roaring low-frequency engine note at acceleration but maintain minimize interior cabin noise when cruising, by shutting off the sound tube. Power you can hear when you really want to feel it and peaceful serenity when you don't.
The second, power, is delivered by a built-in software overclock feature on the turbo EcoBoost engines.
Similar to how modern computer multi-core processors temporarily overclocks a single core for small speed boosts under single-core uses, Ford does this to make the engine 7.4% more powerful for up to 15 seconds between 3,000 and 4,500 RPM for extra torque.
The last but certainly not least is that software is enabling Ford realize its "One Ford global car" strategy by building one common car with the same engine, drive-train, suspension and etc but utilize software control systems to adjust variables tailored for each country and region to conform to local vehicle standards and emission laws.
As someone who enjoys driving cars but doesn't actually pay too much attention to the specifications, it's interesting to learn just how much technology, and especially software technology, now goes into making good mechanics even better.
With a clear trend from user-serviceable software upgrades to a future with cars that automatically download new software patches in the garage, it'll be fun to watch which car manufacturer becomes great software companies too.
Disclosure: I attended the Ford driving event as a guest of Ford Australia.