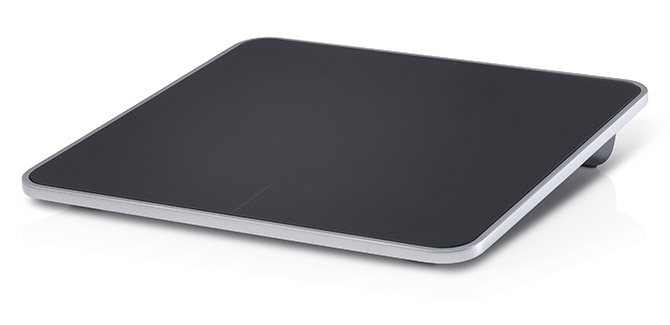 You know that feeling when you want something to work really bad? You try it. It lets you down. So you try again and again, but it still lets you down. Nevertheless you keep trying. Well, that's how I feel right now.
When I saw the Dell Wireless Touchpad on Dell.com last week, a product I didn't even know existed let alone shipping, I knew I had to try it. I spend enough of the workday scrolling webpages, emails and Twitter to appreciate any good alternative to the scroll wheel of a traditional mouse.
For better or worst, I had high expectations, not that anyone shouldn't. My experiences with the Apple multi-touch trackpad on the MacBook Air has been extremely satisfactory. Although by no means a flawless product, its tracking and gesture recognition (two-finger scroll, pinch, rotate & three-finger swipe) are extremely consistent. It even works spectacularly in Windows too.
I've been quite content with the multi-touch trackpads on Dell laptops, so I thought how different can it be? Lots, apparently.
Hardware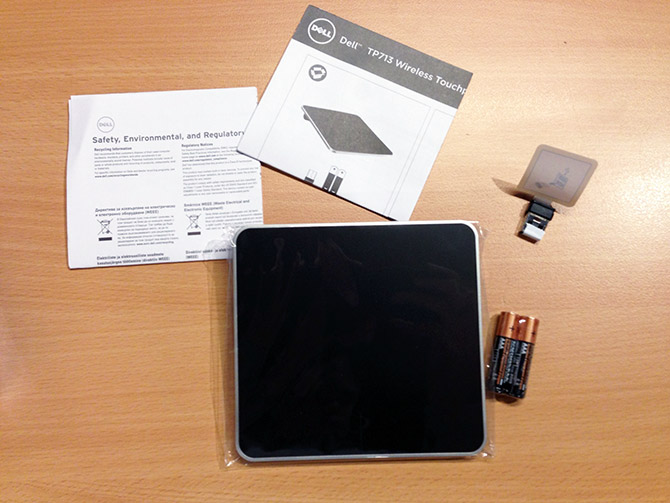 Out of the box, the Dell Wireless Touchpad TP713 is quite an elegant device. The flush metallic chrome encompasses the matte black surface which has no visual impurities except the vertical line dividing the "left click" and "right click" areas at the lower bottom.
Underneath is a fairly typical rubber surface shell which has a removable tray for 2xAAA batteries. Four rubber seats which provides a firm grip for the device when the finger ballet happens. The underside is also what provides the tactile click feedback when pressing down on the device.
The clicking is subtle – the depression isn't even deep enough to see a visible change, but it's comfortably firm and provides a decent amount of audible and physical "thump" to let you know it clicked. Of course tapping is also supported.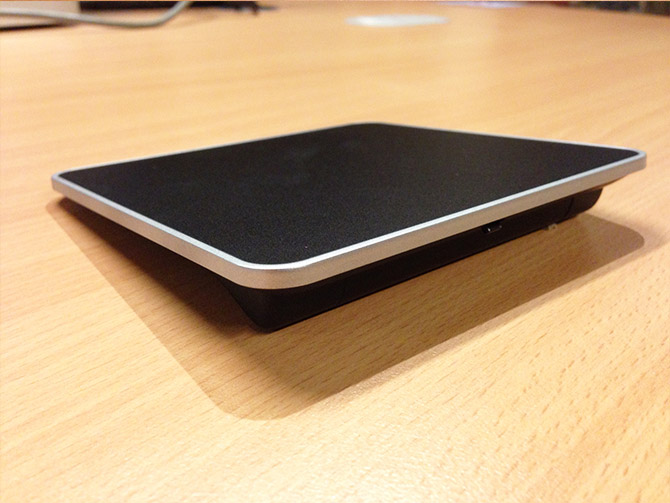 The touch surface itself is smooth and fingers glide quite easily. The surface area is reasonably sized and should provide sufficient room for most gestures. Although subject to sensitivity settings, gliding across an entire 27″ screen is possible from one corner to another.
The device uses a mini dongle to communicate on what I can safely presume to be the 2.4Ghz band. Possibly due to the miniature size of the dongle (it was so small I accidentally threw it in the bin), I noticed some interference issues at a meter distance with other wireless keyboard/mice and possibly WiFi devices which all operate on 2.4Ghz.
Driver/Software
Of course all great hardware needs equally great drivers and software. Unfortunately in this case this is where the quirks develop into frustrations.
First of all, as of the most recent version of the driver (v1.04 released 26/10/2012), there are no customization options. None what so ever. You can't tweak the sensitivity and you can't disable gestures. This is surprising since Dell has a history of shipping quite customizable trackpad drivers for their laptops.
But probably the most important, the gesture detection is too finicky. When it does work, it works pretty well. But when it doesn't work, it can work against you. You simply can't build enough trust to use any of the gestures with confidence.
I would consider two finger vertical scroll the bread and butter of any good trackpad and it's frustratingly hard to pull off accurately on this trackpad. One moment you're scrolling, the next moment you're accidentally zooming. Worse, sometimes I move my two fingers everywhere like ice-skaters, nothing actually happens.
The algorithms that separate gestures from each other and panning must be such a science I can only imagine robots performing the gestures with any confidence in outcome.
The only gestures I could reproduce with some reliability are the three-finger swipes. Swipe up gives you instant access to the "All programs" list in the Windows 8 Start screen, swipe down gives you the Start screen itself. Both are Windows 8-specific and provide some novel use, but not enough to redeem itself.
In contrast to the above, the drivers do actually support the swipe-from-edge gestures for Windows 8 to activate the charms bar, app bars and app switching.
But it's not all Dell's fault. It's long-overdue that Microsoft hasn't standardized the trackpad driver in Windows itself so it can perform scrolling and gestures detection more reliably and consistently across all multi-touch trackpads which is quite standard on Windows laptops today.
Conclusions
Even though the Dell Wireless Trackpad hardware is the closest thing I've seen to an Apple Magic Trackpad peripheral for Windows, it's primitive if not buggy drivers is its Achilles' heel.
At an affordable AUD/USD $59.99, I can't stop wishing it was better. Until Dell can prove it can ship better drivers to fix the gesture detection, I'm left disappointed to find an alternative.
Speaking of alternatives, I've now got my eyes set on the Logitech Wireless Rechargeable Touchpad T650 at almost twice the price. Also not available in Australia.