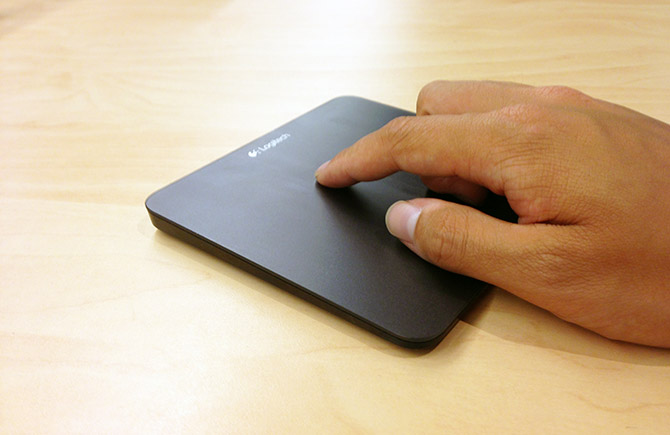 I love to scroll. Yes I'm one of those people that load a webpage or document and just scroll around like a caffeinated hamster on wheels, aimlessly. Now, I can finally scroll with finesse on my Windows desktop with the Logitech Wireless Touchpad T650.
My hunt for a Windows touchpad device began with the disappointing Dell Wireless Touchpad. Thankfully everything Dell did wrong with their attempt, Logitech did right. It takes the right combination of hardware and software to execute on something as simple as smooth scrolling.
Hardware
Taking the device out of the box, it's easy to appreciate the large flush surface. Even though you'd be using four-fingers at most (more practically two finger gestures day-to-day), a full hand can easily fit on the 5-inches of silky-smooth glass top.
The subtle matte texture allows fingers to comfortably glide in all directions – not unlike the Apple Trackpads with slightly less friction. The touchpad also provides very fine tactile clicking, through the rubber feets oddly enough.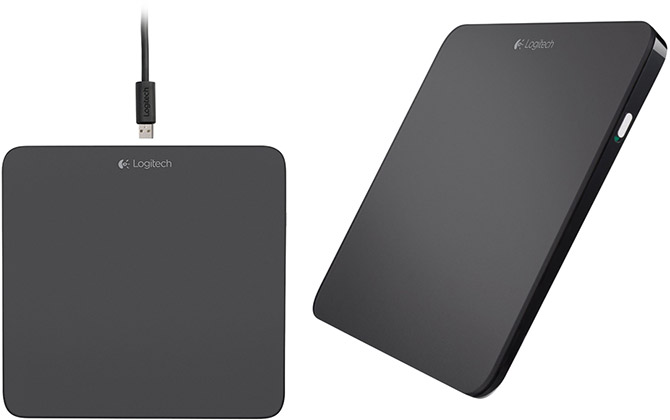 To maintain a light (210g) and thin (12mm) profile, the battery is not removable but Logitech claims it holds enough juice for one month's charge. Conveniently it uses a standard micro-USB port to charge and has a on-off switch on the side. An LED indicator in the corner flashes green or red to indicate charge, as does the desktop software.
Typical of wireless peripherals these days, the touchpad utilizes wireless 2.4GHz. Although I usually don't have much luck with this band, Logitech's tiny "Unifying" USB receiver seems to do a solid job without interference from a reasonable distance.
Software
As the giant label on the back of the device insists, downloading the Logitech driver software for this device is essential to access the full functionality of the touchpad.
Supporting both Windows 7, Windows 8 and even Windows RT, Logitech SetPoint is a reasonably small download. Once installed, the many gestures start working and the control panels allows you to enable/disable and customize many of the actions/gestures of the touchpad.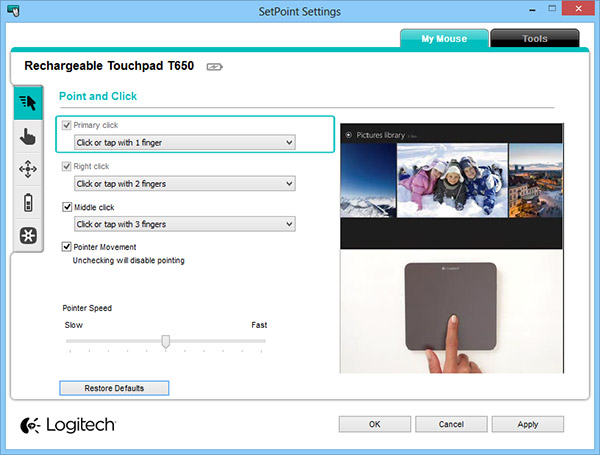 A few options that immediately caught my eye include the default right-click behaviour idiotically set to "click at the bottom right" instead of the more sane "two finger click". Another, reversing the scroll to scroll up when I slide down (something I'm accustom to with OS X).
Unfortunately one important option that's missing is the tapping sensitivity as I would personally like to increase by just a fraction to make it easier to click by tapping.
The driver's gesture recognition is fast and problem free. Moving, single taps, double taps, multi-touch scrolling, swipes and pinching are all correctly and consistently identified. My only issue has been the zooming gesture which is quite sensitive, but since it's not that widely used in Windows I've disabled it altogether.
Probably the most important function of the driver is smooth scrolling (or high-precision mouse scrolling as Microsoft calls it). Once installed, the touchpad can smoothly scroll in Windows applications that supports it along with inertia. Sadly, the applications that support this is few. Internet Explorer does, but for everyone else, Logitech thought of that too.

Bundled with the driver are Logitech plugins for Google Chrome and Mozilla Firefox which adds smooth scrolling compatibility for the touchpad. Like the scrolling you'd expect on a modern smartphone web browser, web pages suddenly become buttery smooth.
On Windows 8, the drivers also enable the touchpad access to the Windows 8 edge gestures from the sides like Charms, app bar and app switching. Personally I don't use enough of Metro applications to get much value out of this.
Availability
At USD$79.99 (AUD$99.95), it's a pretty penny for just butter-smooth scrolling. Of course it does much more than that, but it's still undeniably hard to beat the good ol' mouse on the Windows desktop.
Otherwise if you're looking for an Apple Magic Trackpad designed for Windows, then the Logitech Touchpad T650 seems to be the best hardware on the market with the best Windows 7/8 driver support. Don't just take my word for it, the positive reviews on Amazon agree.
But enough of writing. I'm off to scroll the world wide web. Wheeeeeeee.