I never quite understood what a BlackBerry was suppose to be, especially after the smartphone revolution. For the past few weeks, I've been playing with a BlackBerry Z10 and it has only left me more puzzled where BlackBerry sits in a world of much more capable devices and platforms.
The Z10 device is well-built, solid and sturdy device but it doesn't look too different from a typical smartphone, albeit big but not heavy. The rubberised back cover is one of the best backsides of a smartphone to hold, texture is extremely comfortable to hold and grip.
You can swipe on the "off" screen to resume from standby which is very cool, since the power button is awkward to locate and press at the top. You can also press-and-hold while swiping to "peek" at the notifications and calendar, then swipe down turn the screen off.
The 8MP camera is decent and on-par with most modern smartphones. Inclusion of NFC is very interesting, but there's very minimal integration of sharing and receiving NFC tags. Built-in mini-HDMI output is very interesting, maybe great for presentations but I don't think it's that practical (e.g. AirPlay is much more practical).
BlackBerry 10 on the surface feels like a generic mix iPhone, Android and webOS in a bowl. It's not too radically different like Windows Phone.
The lack of a hardware button for a gesture-only UI (swipe from bottom for home screen) is tough to get into, but simple enough to get used to. It took me awhile to realize that swiping from top inside apps opened their menus/settings.
The quick settings panel (swipe from top from home screen) with easy access to toggle rotation lock, 3G/WiFi wireless, alarm, sound settings is very handy. (Windows Phone needs this.)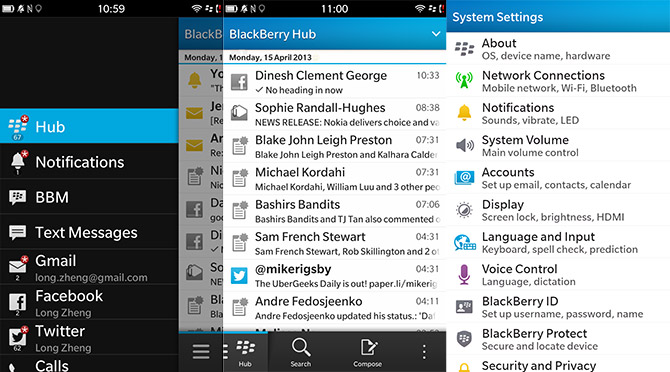 The "BlackBerry Hub" is extremely powerful for email, messaging and social elites. It brings together all the messages and notifications into one easy view. It's like the Windows Phone "Me" tile on steroids.
The ability to use a gesture to "peek" or switch to the BlackBerry Hub (swipe from bottom then right) is a great use of gesture to do something a hardware button cannot.
The app switcher has an interesting use of tiles where apps can opt to display a special view instead of just the screenshot (similar to Windows Phone tiles).
The UI is decently styled but not buttery smooth. Like Android, it has responsiveness issues from time to time and doesn't feel snappy.
Most of the inbox apps (browser, calendar, maps, etc.) are well polished and functional. Third party apps vary in quality, and like Windows Phone apps, feel like second class citizens. Having said that, even Facebook and Twitter are much closer than their iOS/Android counterparts than WP.
Confusingly, some apps are actually Android apps emulated, complete with the Android UI controls. In theory this should make it a no-brainer for Android developers to put their apps on the BlackBerry World store.
The software keyboard is responsive and fast. The buttons are decently sized and error correction effective enough. The word-suggest feature is somewhat gimmicky and I couldn't find it useful enough to replace traditional touch typing.
There's built-in document viewing and editing support which claims to be feature-parity with Microsoft Office Word/Excel/Powerpoint.
Overall, I feel like this is a nice phone and a good attempt at a new touch mobile operating system. There's some neat features that makes emails and messaging easily accessible, but that's not enough to make the platform beat iPhone, Android or even Windows Phone.