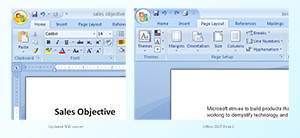 Images: (Left:
Microsoft Design
) (Right:
Office UI Blog
)
Jensen Harris, part of the Office UI team, has been talking about updating the 'north-west corner' of the Office 2007 design to better suit the glass frame in Vista.
This screenshot shows the potential changes they've made to the 'NW corner'. The circle has been made smaller, includes the slightly updated Office logo, as well as by default on hover, shines with a golden background. The "Quick Access Toolbar" also sports a new border. Also subtly, in full screen mode the application no longer has a rounded off corner on the top-left.
Update 1:
Jensen Harris tells me the screenshot is from an interim build, and not all of the changes has been implemented. Also, the golden orb color is not the default state, but however the hover state.
Update 2: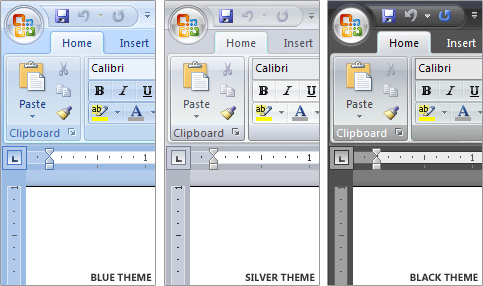 Szajd also pointed out that there was a popup image of the three updated Office colour themes that I've missed. Thanks for catching those Szajd!
The new silver theme looks awesome. I personally found the black theme to be too dark for personal likings, so the silver would fit in nicely. Also, the default state of the new Office orb is depicted.