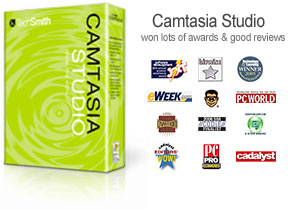 Have you ever wanted to show the world what your desktop looks like? Have you ever felt depressed? Did you suddenly have the urge to screencast? Did you ever want to teach someone the tips and tricks of Solitaire or Minesweeper? Did you ever have trouble selling a piece of software to a client that couldn't tell apart Word from Notepad? Have you ever won anything useful?
If you answered yes or no to any of the questions above, then you need to enter this draw to win your own copy of Camtasia Studio, the award-winning screen recording software by TechSmith!
Camtasia Studio lets you easily create compelling training and presentations for Web and CD-ROM delivery, and you can do it without ever leaving your office. It is the only product versatile enough to record live PowerPoint presentations, personalized technical training sessions, and rich software demonstrations.
I agree!
With the power of interactive Camtasia Studio videos, you can deliver the same high-quality information time and time again, to even your most remote client or student. This means that you can share your professional expertise with more of your audience. And, you can reclaim the time and expense of conducting in-person presentations to increase productivity in other areas of your professional life.
Yes!
To create a video using Camtasia Studio, you don't need multimedia expertise. Simply click the Record the screen button, and follow the steps in the New Recording Wizard to complete the recording. Using Camtasia Studio's timeline and storyboard, you can then assemble your video, add and edit the audio and video tracks, and add callouts.
As easy as reading my writing!
Confused by all the technical jargon? Well, as this illustration on the Camtasia website demonstrates, you can point an arrow to the world with Camtasia Studio! What are you waiting for? Global warming? World peace?
Enter the draw to win your own free copy of Camtasia Studio today!