Microsoft Max is an incubation product launched back in September of 2005 during Microsoft's Professional Developers Conference. Today, it received a pretty large update including RSS feeds support. It also runs on the recently released .NET Framework 3.0 RC1 but not Windows Vista due to unknown reasons.
This is one of the finest looking products released publically by Microsoft, followed tightly by Office 2007. Everything from the smoothness of animations to how the hand cursor changes according to how you can interact with objects is just perfect. If Windows Vista RC1 was as polished as this, then forget RTM.
For those who want to look at how Microsoft Max works but don't have the time or system capable of running this, then have a look this 5 minute screencast overview of the main Microsoft Max features including photo organization, inking and news-reader.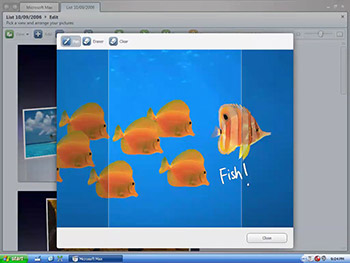 Click image to view video (H.264, 5:09min)
P.S. Yes, my annotations were made by Captain Obvious.