Today is Zune day. The blogosphere has gone crazy with Zune news. But I'm not going to discuss why social networking sucks, or how DRM will destroy the very foundations of human existence, or debate whether or not a gadget can be brown. I'm going to focus on the packaging, not because everything else has been blogged to death, but because this has huge implications for Microsoft.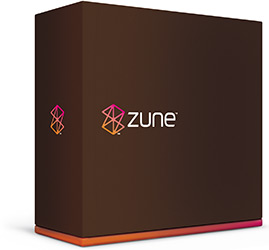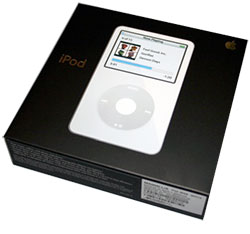 First thoughts. It's brown. It's square. And it's simple. Second thoughts, what the hell is that thing at the bottom? Third thoughts, what is this? Granted Microsoft learned from their mistakes, but I think this is not going to work. Of course I have no idea what is displayed on the other 4 sides of the product box I cannot see, but if this is the same way the product will be displayed in retail stores, then it has serious problems.
For someone who doesn't know what the "Zune" is, and I could safely assume that is a large percent of the population, this product box means nothing to them. It has a brand that is unrecognizable and doesn't even indicate the slightest association with a portable media device. For a technology enthusiast, this might look cool since its ultra-modern and clean, but to someone who might be scared of turning their computer on, this box has no significance or influence to make them pick up the box and have a look around the other side, assuming there is anything on the other side.
The iPod solves this problem by having an image of the device on the front face of the product box. For even someone who might have never heard of the iPod, this box will not only tell them what an iPod is (a portable media device), but show them what the product looks like. So if someone either knows the iPod name or what it looks like, then they'll instantly recognize this box. The Zune misses this opportunity by assuming consumers already know what they're looking for, and that is, a brown box with the Zune logo on it. And that's a pretty bold assumption.
The only way this will work is if Microsoft delivers an advertising campaign that embeds not only the "Zune", but the brown box into the minds of every electronic consumer in the world. And that's probably what they'll do. I look forward to the FY07 expense report (inside joke). How much will Microsoft pay to get the Zune off the ground?