Or you might want to call it Desktop Aurora. Regardless of how you want to call it, the feature to have an animated and potentially 3D desktop background would be extremely cool. We've already seen two proofs (one/two) such a feature is going to be shipping with Windows Vista, but along with Build 5728 comes a new hint. This is shown in the OOBE (Out-of-box-experience) testing process. I extracted this from the resource file.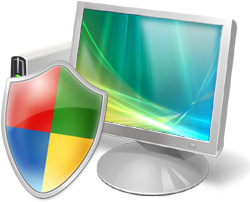 This is most obvious and clearest indication of the Aurora feature. The background features the prominent blue and green colours which the Microsoft designs have been talking about for a long time, as well as the aurora effect which we've all been used to. But in addition, the flare makes a guest apperance with a cool glass effect.
Along with an insider tip that something exciting is going to ship with Windows Vista, I can now safely assume such a feature will either be shipping with Windows Vista or delivered as a Windows Ultimate Extra.