Days away from launch, someone has sent in a tip about the official Windows Vista viral marketing campaign called Clearification. If you loved Demetri Martin in The Daily Show, you'll love him here. It's funny, its depressing, its satirical and I don't know how it relates to Windows Vista.
To get the vibe of Clearification, have a look at this video.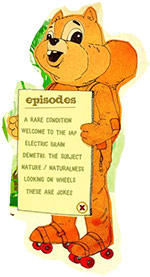 It is no secret Demetri Martin signed up with Microsoft nearly 4 months ago in a multi-staged marketing campaign aimed to improve the image of Windows and Microsoft. So far, Microsoft has sponsored for Demetri's stand-up tour "These are Jokes", touring around the States. But Demetri Martin is best known for his "Trendspotting" reports in the Comedy Central show, "The Daily Show".
As noted by the Seattle Pi, Microsoft and Apple are literally head-to-head when it comes to hiring comedians. On the same show, Apple has already hired John Hodgman as part of its Mac-vs-PC advertising campaigns. Could this be rivalry at its finest?
In the past, Microsoft has officially stated Demetri will the face of a massive multipronged campaign for Windows Vista, and this is it. Whilst it has obvious associations with Microsoft and Windows Vista, it is still unclear how it will tie-in with the bigger Windows Vista marketing campaign. So far, a link and a few audio plugs are all there is between Microsoft and Clearification, which are only links to Microsoft's official website.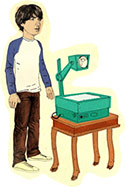 The focus of the website is to show a series of episodic videos about a man with psychological issues who's been sent to an institution. It is unclear how Windows Vista might tie in to the whole story, but I'm guessing Vista is going to make him less crazy? Or something along those lines of being a normal, productive and sane man.
The tone of the website is very light hearted, with plenty of family-friend jokes and amusing quotes. The artwork is by Michael Gillette. Music by Film School Music. And it even has an RSS feed. There are also options to download each video and quote featured on the website, which will very popular with teenagers who share them like crazy.
A Whois search of the domain reveals clues about when this domain was registered or who (marketing agency) was responsible for the campaign.
Domain Name: CLEARIFICATION.COM
Created on: 11-Apr-06
Expires on: 11-Apr-12
Last Updated on: 10-Sep-06
Administrative Contact:
de Bruin, Cees [email protected]
Not the Carrot
2e Rozendwarsstraat 1-1
Amsterdam 1016 PD
Netherlands
+31(0)203202772 Fax — +31(0)203202773
Definitely check out all the wackiness that is Clearification for yourself at www.clearification.com.