Some people have accused me of trying to profit from this blog and running giveaways to draw more visitors and increase AdSense revenue. To them, I have this to show.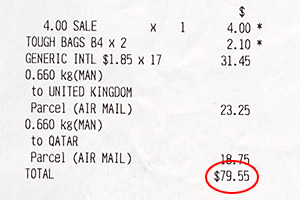 This is the Australian Post receipt for posting 19 giveaway items (17 Vista mousemats + 2 AJAX books) to strange and wonderful places.


This is the AdSense earnings report for last month, when the competitions were held. Note: the converted Australian dollar value is AU$74.50.
It's simple. I run this blog at my own expense. Any profits I do earn, are returned to the indirect owners and supporters of this blog including my host or you, the readers. For the previous months, I've voluntarily donated all of my AdSense money to my host, to contribute server upgrading costs. This month, I've used the profit to send away the giveaway items.
I don't know how some bloggers can make enough from AdSense to buy a car or even a house, but I feel sorry for their readers for being such loyalists and literally making money for someone else.