I've been doing a lot of playing around with virtual environments lately, because booting into Windows Vista everytime I want to hear the startup sound can be pretty frustrating. Today, Parallels announced Parallels Workstation 2.2 for Windows which has increased support for Windows Vista. So far, I've been using Microsoft's Virtual PC 2007 Beta but I'm not 100% happy with the performance. So I decided to give Parallels a test run after hearing all the good press on its Macintosh counterpart.
I installed a virgin copy of Windows Vista Ultimate RTM on exactly the same virtual hardware to do a direct comparison between the two products. Both products has their respective 'additions' package (VM Additions/Parallels Tools) installed to maximize performance.
Note: I recognize that VMware Server/Workstation supports Windows Vista as well, but the lack of Intel VT support results in really poor performance.
The results was surprising. Parallels started off faster by at most 2 seconds, but eventually Virtual PC caught up and ended up winning by 8 seconds. This has put my superstition about Virtual PC's sluggish performance on the backburner for the while, until each product optimizes their products for Vista even further.
Unfortunately, none of the solutions (Virtual PC, Parallels, VMWare) will support hardware-graphics virtualization for quite some time, so there goes any chance of Aero Glass in a virtual environment.
My good friend Andrew Dugdell has 7 great tips on even improving Virtual PC's performance. Well worth checking if you do a lot of work in a virtual environment.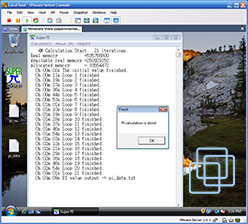 Update: Under the advice of Keith Adams (from VMware), I gave VMware Server another go. I've actually been a long time user of VMware Server, but ever since alternatives started supporting Intel VT, I've switched and found the experience much better. Perhaps it was just a psychological thing, but my new tests prove otherwise.
VMware completed the SuperPI test 6 seconds faster than Virtual PC. And with its dual-core support for guest operating systems, it runs even faster with dual-core enabled. I guess this proves Intel VT doesn't enhance performance at all (right now), or at least VMware already runs blazingly fast. I'm switching back!