Todd Bishop, Robert McLaws and even I have been keeping a close eye on Windows SideShow, one of the last remaining features in Windows Vista yet to be thoroughly explored. Largely due to hardware constraints, not many people have seen SideShow devices let alone play with one. So apart from the infamous Channel 9 video, a few screenshots and concept art, we really don't know much about the experience. Or should I say, until today.
Today, Microsoft published "Getting Started with Windows SideShow (C++)", a Hands-On-Lab tutorial for developers to help understand and develop for the SideShow platform. This HOL however brings an interesting gift to enthusiasts like myself. A working SideShow emulator even with device drivers. This is no interactive demo. This is as closest as it gets to the real thing without touching one.
I've put together this screencast giving an overview of the SideShow experience including navigation, using gadgets, adding gadgets, changing UI themes and more.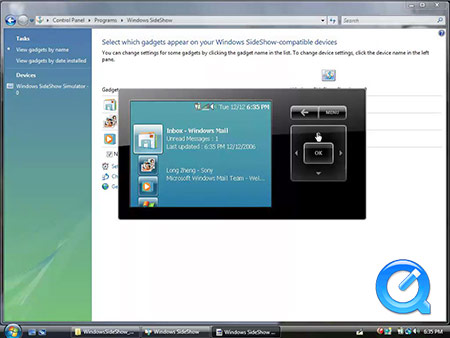 Click image to view video (H.264, 2:57min)
Or alternatively, if you are Quicktime impaired, view the low-bandwidth MSN Soapbox flash version.
It would be important to note that this video does not accurately represent the final interface or experience of Windows SideShow. As Todd Bishop's article's accompanying picture shows, the UI has already been refreshed to include the Aurora yet this emulator has not. As well as, it will be ultimately up to OEMs to decide on what the interface will look like, as they will have control over the styling of interfaces with their own SideShow devices.