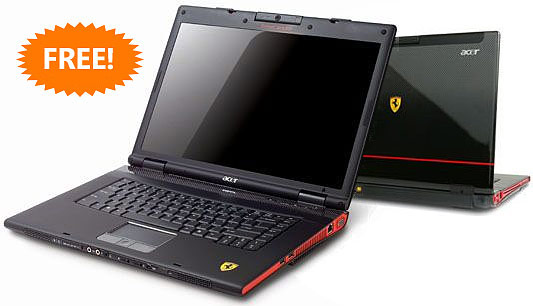 Microsoft together with AMD gave out some timely Christmas presents (which are officially review PCs) to a bunch of bloggers this year. Brandon LeBlanc got one, Scott Beale got one, Mauricio Freitas got one, Mitch Denny got one, Zen.Heavengames got one, Barb Bowman got a media center, plus many other bloggers who has yet to receive it during the Christmas rush. They seem to have covered everyone from A-list to Z-list, a first in the industry with such a valuable gift, kudos for thinking about the little guys.
Some people got Ferrari 1000s, others got 5000s (Some got Media Centers even). The following specs are from the Ferrari 5000.
The machine looks just as good as it specs. As part of Acer's Ferrari designer computing range, the carbon-fiber case is styled with a slick threaded finish with genuine Ferrari badging and color strips. Just like the racing counterpart, this machine has grunt. It sports an AMD Turion 64 X2 dual-core 2ghz CPU, 2GB of DDR2-667 RAM, AMD-ATI Mobility Radeon X1600 on a 15.4″ widescreen. It also has a 160GB SATA drive, HD-DVD reader and burner as well as a 1.3mp camera. Full specifications available at the Acer website.
Assuming it doesn't use Sony batteries, this laptop blows everything out of the water. It retails for a hot $2,299. But if you write about Microsoft, they might even give you one for free. Is it ethical? Probably not. Is it worth something to hard-working sweat and tears bloggers? Hell yeah.
I don't see the Free Software Foundation handing out any Ferrari's.

Update: Robert Scoble also picked up the story, comparing this to PayPerPost. Although I think PayPerPost is about profiting, whilst this is about rewarding. Even though the outcome might be the same.
Update 2: Dan Warne from APCMag has a different perspective on this issue, he thinks this is highly inappropriate and immoral. Could this act of generosity turn upside-down into a PR disaster?
Update 3: Just something for everyone to keep in mind. Remember bloggers are given a choice which includes giving the machine back when they're done with it. Keeping the unit is a decision made solely by the bloggers receiving the computers.
Update 4: Looks like I've stirred up the waters a bit, so here's some of my opinions and clarifcations.
Update 5: These machines were sent for review and reviewed they shall. Brandon LeBlanc is one of the first with an actual review of the machine (Ferrari 5000). It's a beast without the beasty size.
Update 6: Mitch Denny (who received a Ferrari 1000 and disclosed it) has posted an excellent excellent post collecting all of the discussions including articles from both sides of the fence on this topic.
Update 8: Journalist writer and blogger Ed Bott thinks the whole moral debate is unnecessary. "Everyone in the community wins when that person gets the chance to play with new technology." He got a Ferrari 5000, and might auction it off for charity.
Disclosure: This post was sponsored by no one. Because no one cares about Long.