Thanks to Alex Khristov for uploading and sending this through. It pretty much speaks for itself.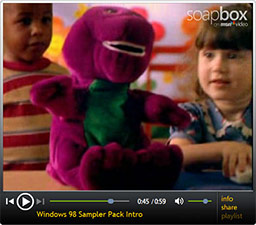 As this video clearly illustrates, 1998 was a great year for fancy marketing videos. Screen tearing (as seen at 0:30sec) seems to be very much a positive visual effect. Copying system files was also a hot feature back in 1998, as well as over-scaled 16x16px 256-colored icons. Clippy even makes several guest appearances.
If someone could please explain the connection between Barney The Purple Dinosaur and Microsoft Windows 98 seen at 0:44sec, that would be greatly appreciated.
Maybe one day we'll look back at videos with spinning laptops with laughter too.