If you haven't already, check out my interview with the Flickr man himself, Hamad Darwish.
Desktop wallpapers usually meant one of three things: exotic cars, women in compromising positions, or Bliss. If you were given the job to choose only a handful of images from billions and billions of creatives available today to be part of an operating system's desktop wallpapers, how would you choose them and which ones would you choose?
That was the daunting task appointed to Microsoft Design's Jenny Lam, who led the year-long search to find what would become the new set of bundled wallpapers for Windows Vista.

The end result is a stunning set of photographs and art which make up the collections of light auras, textures, paintings and vistas. You might be easily fooled to believe that these are the works of professional photographers who eat camera film for breakfast, lunch and tea, but you'd be wrong. It's true, some of these photos did come from big stock houses such as Corbis, Getty and National Geographic, but did you also know some came from Flickr and even Microsoft employees?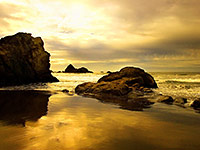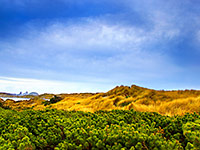 Photographs by Flickr user Hamad Darwish.

Some interesting statistics on the selection process:
About 2/3rds of the collection is licensed from stock houses.
There are a handful from amateur Flickr photographers (which are Jenny's favorites).
About 5 images came from Microsoft full-time employees.
Several that were work for hire, where Jenny art-directed a professional photographer on a shoot in Santa Barbara and NYC.
Evaluated over 10,000 images with over 50GBs of low-resolution images during the round 1 selection process.
This new approach to sourcing and licensing creatives is exciting not only because amateur and enthusiast now have the chance to showcase their works to millions and millions of people – something even the most prestigious art gallery cannot offer, but also recognition of community-driven websites such as Flickr for the ability to deliver quality 'products' equal to or even better than from traditional content companies.
Hopefully Microsoft might even consider expanding the program to allow for public submissions of photographs and creatives to be included in future editions of Windows. In a way, "Show us your Wow" is already a test-bed for user-submitted content and community feedback with over 20,000 entires submitted. Of course, there will be certain licensing and legal issues to overcome, but I bet some enthusiasts will do anything to get their works displayed on such a scale.
Certainly interesting times ahead for enthusiasts like Hamad and Thomas Hawk.
Update: Raymond Chen have some other bits about the process.
Update 2: I just did an interview with the Flickr man himself, Hamad Darwish. We talked about his life, Microsoft and his passion for photography.