Sometimes millions of people will have to bear the outcomes made by one or a small group of decision makers. Most of the time the decision is favorable to customers, for example the "Ribbon" interface – it solves a very big problem (however also not the ultimate solution). But other times, the decision doesn't reflect the wants of the customers and the result doesn't deliver to standards (Zune) or deliver at all.

I think a mistake has been made on "Scout", the internal Office 2007 add-on that's been well-received by pro Office users all around, but not going to be released.
I want to insert a border on my page. I check the "Home" tab, looking…looking…looking. Nope, nothing about page borders here. Next most obvious tab, "Insert". Ooh, cover pages – fancy, not it though. Looking… Nope, nothing about page borders here. Moving on to the next tab, "Page layouts". Looking… Oh there it is, 9th icon from the left.

You might call me dumb, but that's what I do. Sometimes I just don't know where to look for a function that I know exists in the application. But why should I have to look for it when Microsoft is so heavily promoting search in its new wave of product releases?
I can search for applications and documents from the Vista start menu. I can search for photos in Windows Photo Gallery. I can search for music in Windows Media Player. Hell I can even Google Search in Internet Explorer. Why can't I search for tools in Office?
Oh wait! You can, if you work for Microsoft. But 400 million Office users don't.
Chris Capossela, a corporate vice president in Microsoft's Business Division, tells Mary Jo Foley that "Scout as a proof-of-concept app, nothing more". Well if that's the case, then I can tell him the concept works.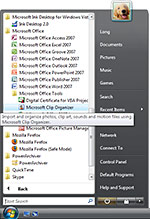 Chris goes on to add, "adding another search tool on top of it (Ribbon) would be superfluous and potentially confusing". No matter how intuitive Ribbon might be, it's not perfect. Sure, I can click through the Vista start menu folder by folder looking for the application I want. It's worked since Windows 95, it will work another decade.
Search in the start menu might be "superfluous" and "potentially confusing", but it's there because it's easy. I don't care if I can find "page borders" with 20 different ways in Office, I just want the one that would be easy.
"Scout" could come in the form of a PowerToy with no help file, support or warranty. It has been well received by Microsoft employees who's used it since September 2006, and even customers who's never seen more than one screenshot. If there's one proof-of-concept that's a sure thing, then it's "Scout". Please release it.
Update: Here's my own test-case scenario to support my argument. I was working with Excel all day yesterday, trying to find a command I know existed in Excel 2003 and can be found quite easily. I was clicking every tab and hovering over all the buttons. I must have gone through the Ribbon at least 5 times.
In the end, the stupid command wasn't even in the ribbon to begin with. You had to manually add it to the "Quick Access Toolbar". If I had "Scout", I could have saved at least the frustration of not being able to find a too that I know is there, not to mention the time and effort wasted.
Microsoft, you've built it, you've released it internally and the people love it. You wanted to experiment and the experiment is a success. Not to release it publically because it contradicts some stupid marketing gimmick is BS. Are you building quality products or marketing campaigns? Ribbon is intuitive most of the time, but don't throw away common sense just yet.