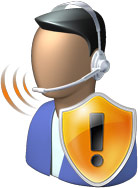 Last week, the media went schizophrenic over the Windows Vista speech recognition 'loophole' which allowed anyone with a microphone to have full access over your computer. Granted, you must also be partially-deaf, turned your speaker volume to full, carefully place your microphone next to the speakers, turn on speech recognition and train your speech profile as if you were someone else. It might sound incredibly challenging to get this exploit working properly, but the media assures this exploit is a "fatal flaw", so obviously Microsoft is to blame and Vista gets a big red "Fail" on security.
This week, two top Swedish security experts only to be named "Long" and "Zheng", to hide their identity from Microsoft, exposes many more "fatal" security flaws inside the newborn operating system, Windows Vista. Here are the two most dangerous exploits you should be concerned about.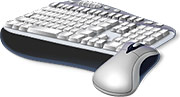 The first exploit is a bug inside the keyboard and mouse subsystem which enables the targeted system to be hijacked and maliciously delete files, folders, music, torrents and other important sounding stuff without the user's authorization or control.
Details of how such an exploit works are sketchy, but leaked documents reveal the keyboard and mouse APIs offers unprecedented amount of control over an operating system, allowing anyone and everyone to have full access to your computer with or without your authorization. This exploit allows anyone ranging from younger siblings to gang leaders who could use brute force, such as a punch or tickle, to gain access to your keyboard and mouse cursors and perform malicious activities such as browsing The Inquirer or deleting vital fraudulent financial documents.

A second exploit highlights a serious flaw inside the popular Windows-platform development tool, Visual Studio. An undocumented feature inside this software is said to enable the ability for malicious users to compile and execute unsigned and potentially damaging source code. If users somehow come across malicious source code and decide to copy, paste, compile and execute within Visual Studio, the resulting application could change wallpapers, block access to YouTube, increase the volume and other serious irreversible damages to the computer system.
Nobody knows exactly how or why Microsoft has designed Visual Studio to include such a dangerous and exploitable feature, but several self-proclaimed security experts has voiced their anger to Microsoft for such questions actions. "Putting lives at risk like cars on the road" says one expert, "cheese sandwiches are really good, but this is horrible like a tomato sandwich" insists another – drawing a connection between operating systems and lunch snacks.

Whilst both exploits are said to affect the entire industry of operating systems, "Long" and "Zheng" insists that only Windows is affected due to its massive user-base and pretty wallpapers. Both security experts warn if users do not switch to another operating system, Apple and the Free Software Foundation will be really upset.
Microsoft officials gave me a weird look and did not wish to comment at the time of writing.
Next week, keep an eye out for the exclusive report on why Solitaire is a fire hazard. How the end-game fireworks might burn down your operating system. Not to be missed by every innocent Solitaire player.