Monash University, the college where I currently attend for my tertiary education, is in a race to beat other Australian universities to see who can collect the most funds from parking permits.
The race officially started when the campus I attend, Monash Berwick, decided to implementing a parking permit system after 9 years of free and unrestricted parking. During those 9 years, parking spaces has only increased marginally and most spaces are still under full sun. The distance between your car space and the closest campus entrance can be calculated by a logarithmic graph in relations to time you've arrived after 9am.
To cover the cost of building 2 extra speed humps at the most inappropriate places (like a set 5 meters from the traffic lights), the school decided in 2006 to implement a color-coded parking system based on how weak you are. You see, the parking spots closest to the entrance costs more money, so the majority of staff purchase these permits. The lazier but richer students can purchase 'premium' permits which is a little further, but not as far as the eye can see. The generic student can otherwise purchase standard permits which also doubles as a fitness training program. And the beauty of this system is, you're not even guaranteed a reserved space. Parking suddenly becomes competitive!
Last year, the 'blue' generic permit set you back $55. This year, Monash wants to heat things up a notch. Blue permits in 2007 will cost $140. Alternatively if you're not very smart, you can use your Monash concession card which costs $99 to sign up, and get a discounted permit for $98, which combines to $197.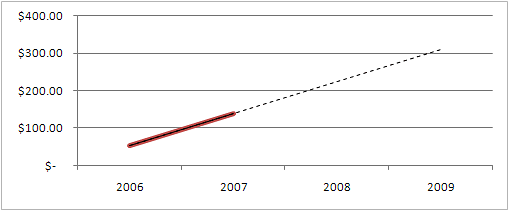 Over a year's time, there was an increase of 150%. By the time I graduate, parking could cost more than books, which was the holy grail of school expenses.
It shouldn't be long before $8,000 per year college fees are abolished in favor of a park-as-you-learn system. To integrate my learnings with real-life situations, I would say this is what marketers define as a "cash-cow".