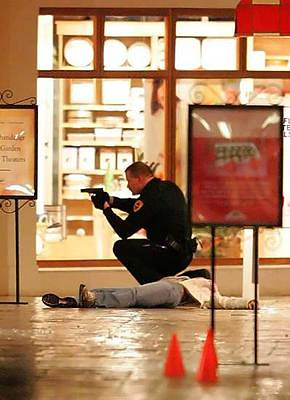 Things like this you assume you'd only see in movies.
A man with a shotgun fired randomly in a historic shopping mall in Salt Lake City, Utah, late Monday night, killing five people and injuring several others before he was killed, police said. Hours after the rampage, police still were searching stores for shocked shoppers and employees who were hunkered down awaiting a safe escort from the Trolley Square mall. Read more at CNN.
A Salt Lake City Police officer squats with his gun drawn to a body inside the Trolley Square Mall. Photo: Mike Terry
Someone's parent. Someone's child. Someone's cousin. Someone's relative. Someone's teacher. Someone's colleague. Someone's employee. Someone's employer. Someone's friend. Someone's best friend.
Someone lying on the ground.